Ingredients
2 x 85g pkts jelly crystals
2 tbsp powdered gelatin
1/2 cup (125ml) cream
1 1/2 cups (375ml) boiling water
1 pkt Oreo cookies, filling removed
You will also need:
100 plastic bendy straws
elastic bands
Method
Step 1. Stretch the bend in the straws straight and hold together in a bunch using rubber bands. Place standing up in a tight fitting jug, carton or container.
Step 2. Place jelly crustals and gelatine in a bowl.
Step 3. Pour boiling water over, whisk well until all crystals are dissolved. Whisk in cream.
Step 4. Pour the mixture over the straws until all of the mixture is used. Place into the refrigerator to set for 4 hours.
Step 5. Place Oreo cookies in a bag and crush with a rolling pin. Place in serving dish.
Step 6. Rinse straws under warm water (not hot or you will melt the contents) to loosen the jelly. To release jelly worms, hold the straw over the blade of a blunt knife and pull the straw over the blade so the worms slide out the end. This is similiar to the way you curl gift ribbon. Place worms on Oreo "dirt" and serve.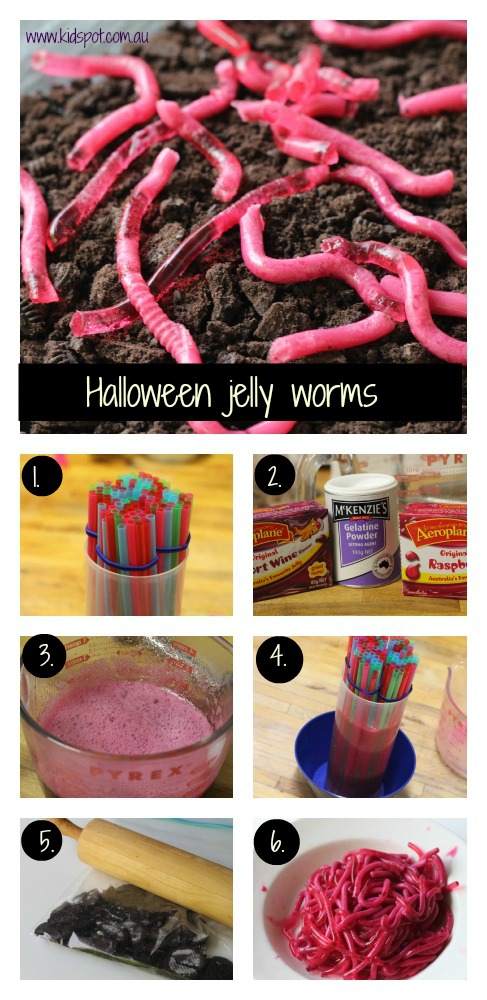 I used Port Wine and Raspberry jelly crystals.
The contents of the straws are fragile and you need to be careful when pushing them through the straws. It is best to store the worms in the fridge before serving.
This recipe was created by Jennifer Cheung for Kidspot, New Zealand's best recipe finder.