Serves: 10-12
Ingredients
12 Oreo biscuits
1 1/2 cups pretzels
1 cup (160g) Smarties
450g white chocolate
Method
Step 1. Line a baking sheet with baking paper. Bash the Oreos and pretzels up a bit with a rolling pin then combine in a bowl with the Smarties.
Step 2. Break the chocolate up into small pieces and place in a bowl over a saucepan of simmering water until melted (stir every now and then so the chocolate doesn‰Ûªt catch and burn at the bottom).
Step 3. Fold the melted chocolate through the biscuit mixture and spread out on the prepared tray so mixture is about 1.5cm thick then pop in the fridge for an hour or so, or until completely set.
Step 4. Break bark up into uneven shards and either serve, keep in an airtight container until needed/wanted or divide between clear plastic bags and give away as sweet little presents.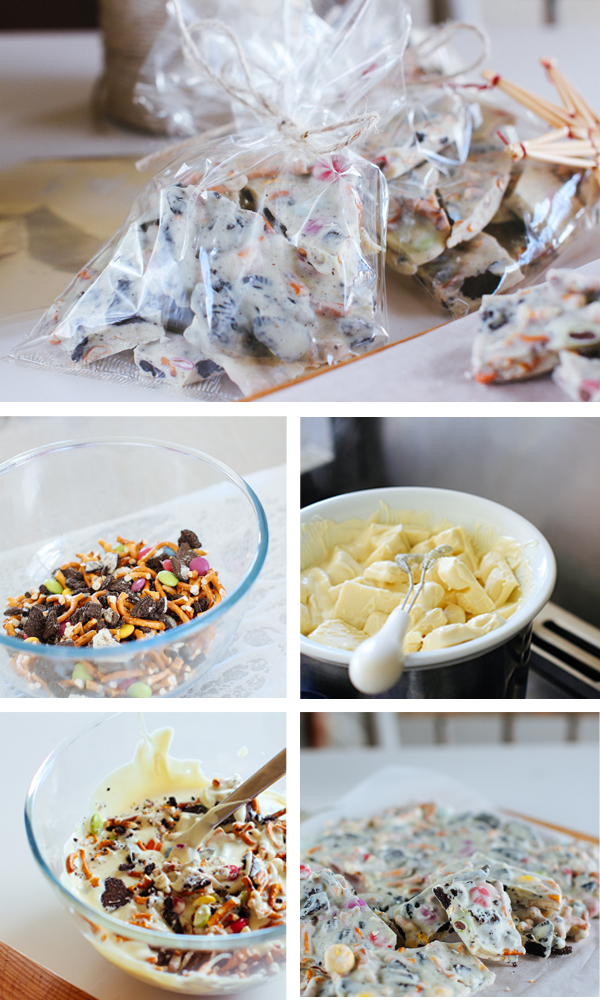 Swap the white chocolate for milk, dark, or use all three and swirl together for a marbled effect.
You can add pretty much any sweet or biscuit to this mix; it's really just a matter of your preference! Bashed up candy canes would also be great, and we've also tried this with tiny boiled sweets too.
This recipe was created by Sophie Hansen for Kidspot, New Zealand's best recipe finder: You can follow Sophie on Local is Lovely, Facebook or Pinterest.