Olympic rings doughnuts
Serves:
Ingredients
5 doughnuts, glazed or unglazed
3 cups pure icing sugar
3 tbsp water
Food colouring  – blue, black, red, yellow, green
Method
Step 1. Take 5 ready-made doughnuts.
Step 2. Mix the icing sugar with the water until you have a thick paste.
Step 3. Divide the icing between five saucers and add a few drops of food colouring and mix until you have the desired colour.
Step 4. Spread icing over each doughnut and to set for 10 minutes leave on a plate. Follow the photo to arrange the doughnuts in the correct colour order for the Olympic rings on a serving plate.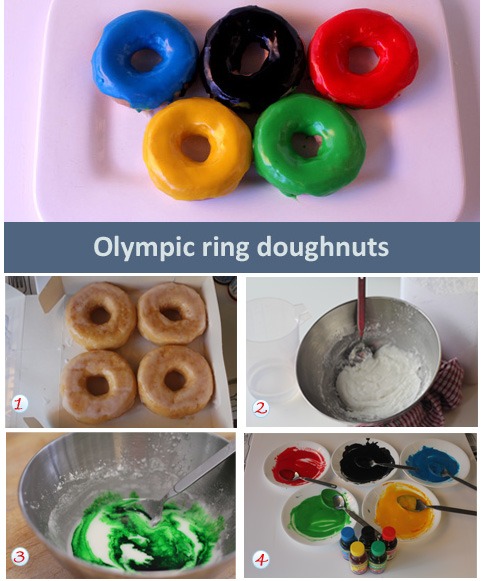 Serving Suggestions
You may need to adjust the amount of water you use to create this icing, so start with 2 tbsp of water and then add as needed.
These doughnuts were created using Queen brand food colouring. You can buy four of these colours in a small convenient pack called Rainbow colours and just buy an individual bottle of black food colouring.
If your children are sensitive to food colouring, you can buy Natural food colouring which is also made by Queen.
This recipe was created by Jennifer Cheung for Kidspot, New Zealand's best recipe finder.