Salmon Pasta
Serves:
Ingredients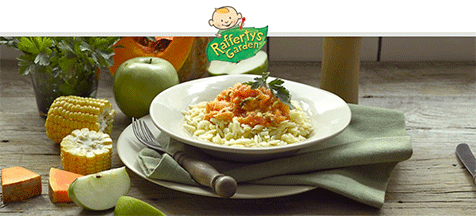 Olive oil
I x 95g tin pink salmon or tuna, drained and flaked
2 ripe tomatoes
¼ leek, finely diced
½ garlic clove, crushed (optional)
3 leaves basil, chopped (optional)
Pouch of Rafferty's Garden Garden Pumpkin, Apple and Sweetcorn Smooth Baby Food*
1tbsp cheddar cheese, grated150g
risoni pasta, cooked
* Pumpkin, Apple and Sweet Corn give your baby a good start on those nutritious yellow and orange vegetables. Rafferty's Garden nutritionist Karen says their colour comes from the antioxidant vitamin beta-carotene, which we convert to Vitamin A.
Method
Step1
Score the bottom of two ripe tomatoes, drop them in boiling water for 1 minute and then refresh in cold water. Carefully peel the skin off the tomatoes and dice into small cubes. You may use tinned tomatoes if preferred.
Step 2
Heat olive oil in sauce and lightly sauté leek and garlic add diced tomatoes and continue to sauté for 1 minute. Add tin of salmon and stir keeping the heat on low. Add pouch of Rafferty's Garden pumpkin + apple + sweet corn (+ nothing else) plus the cheese and basil. Mash or blend to the best consistency for your baby.
Step 3
Serve with cooked pasta
Serving Suggestions
Note
For babies aged 9 months +, choose pasta spirals, bow ties fettuccine cut into 1cm lengths curly fettuccine. They all make wonderful finger food and are perfect for this age group.