Ingredients
2 pkts (85g) lime flavoured jelly crystals
3 sachets (10g) edible powder gelatine
1L (4 cups) boiling water
2L vanilla ice cream
Method
Step 1.åÊGather all ingredients and boil the water.
Step 2.åÊIn a large bowl, dissolve the jelly crystals and gelatine with the boiling water. Whisk well until all crystals are dissolved.
Step 3.åÊAdd the ice cream to the bowl and whisk until melted and completely dissolved.
Step 4.åÊPour into a 33 x 23cm åÊglass dish. Refrigerate until completely set.
Step 5.åÊWhen set, use a shamrock-shaped cookie cutter to cut shapes from the dish. Scoop from underneath using an egg slice so you get clean shapes.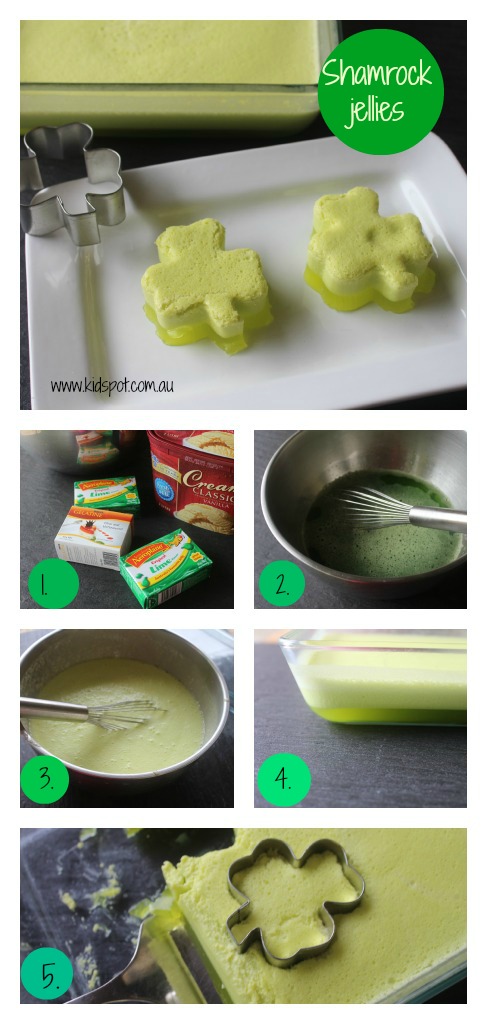 Find related green St Patrick's Day recipes
If you think cutting out shapes is too fiddly, you can just scoop this into bowls for the kids. It makes the perfect do-ahead recipe for parties.
You can also use this for St Valentine's Day if you use red jelly and cut out heart shaped jellies.
Thanks to our sister company, Kidspot Australia for the instructional picture collage.
This recipe was created by Jennifer Cheung for Kidspot, New Zealand's beståÊrecipe finder.