Food is more fun when it's on a stick, right? Licking a lollipop, sucking a frozen ice block or buttering hot damper off a stick are exciting ways for kids to devour their treats and become more engaged in the process of cooking, preparing and enjoying their food. Here are some recipes worth trying.
Fun on a stick recipe #1: Cake pops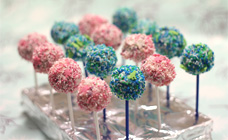 You can use a pre-bought cake to make these easy, but too-cute, cake balls on a stick – and why not enlist your kids to help? Littlies will have just as much fun making and decorating them as they will eating them. The no-bake cake pops also look fab on the birthday party table.
Try the Cake pops recipe.
Fun on a stick recipe #2: Rainbow lollipops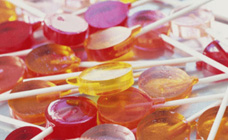 Lollipops are the all-time kid favourite when it comes to goodies on a stick. And the smiles you'll get from presenting these rainbow lollipops that you can make in your own kitchen are worth the effort.
Try the Rainbow lollipops recipe.
Fun on a stick recipe #3: Pizza pops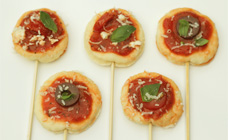 After a savoury party food? Why not give these easy pizza pops a whirl? Your children will love working the dough and choosing toppings to serve to their friends. Plus, these bite-sized savoury treats look great piled on a party platter – not that they'll stay there for long…
Try the Pizza pops recipe.
Fun on a stick recipe #4: Yoghurt popsicles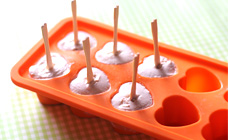 How many ingredients do you need for creamy, yummy popsicles? One. This recipe for frozen yoghurt pops couldn't be easier. In fact they're so simple, why not get your budding chefs to make them?
Try the Yoghurt popsicles recipe .
Fun on a stick recipe #5: Damper on a stick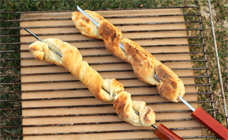 These Damper 'snakes' are a fun snack. Let the kids help you make the dough then thread it on to the stick to cook over the campfire. Serve with lashings of jam and butter – yum.
Try the Damper on a stick recipe.
Fun on a stick recipe #6: Toffee apples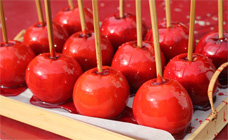 Nothing makes little eyes pop like a row of glossy toffee apples. This recipe guarantees toffee apples that are juicy, sweet and crunchy – and they're not as tricky to make as you think. Delight kids at parties, picnics – or just because you feel like spoiling them.
Try the Toffee apples recipe.