Ingredients
large candy canes
small (12g) Milky Way bars
100g chocolate melts
Tiny Teddy biscuits, honey flavoured
Mini M&M's, red only
pretzels
Method
Step 1. Place chocolate in a glass bowl and melt in the microwave for 1 minute. Stir until melted. Place a layer of baking paper down to sit your sleighs on. Peel plastic off candy canes. Place on the sheet about 3cm apart.
Step 2. Spoon a little melted chocolate on the back of a Milky Way and sit the Milky Way on the candy canes. Adjust the canes so the hooks are standing straight up.
Step 3. Using a sharp knife, cut legs off a Tiny Teddy biscuit. Dab a little melted chocolate on the cut edge.
Step 4.Sit the Tiny Teddy on top of the Milky Way and hold until firmly attached.
Step 5. Dot a little chocolate on a red Mini M&M and stick it on the face of the Tiny Teddy biscuit.
Step 6. Break pretzels so you have 1.5cm sticks and dab a little chocolate on the bottom of each stick and place on Tiny Teddy head as antlers.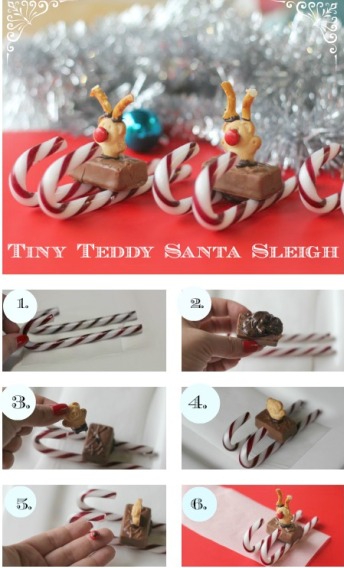 Find related Tiny Teddy recipes
Candy canes become sticky as soon as you expose them to air so I unwrap each one as I go.
Each element may not stick immediately so you may need to hold them for a second or two so they stay.
This recipe was created by Jennifer Cheung for Kidspot, New Zealand's best recipe finder.