Makes 12
Ingredients
12 small strawberries
12 green grapes
1 banana
12 white mini marshmallows
Method
Step 1. Hull the strawberries by neatly slicing the green stalks away. Cut 6 wooden skewers in half.
Step 2. Slice a banana into 1cm rounds and set aside.
Step 3. Thread the marshmallow, strawberry, banana and grape onto the skewer as you see in the photo.
Step 4. Serve – reminding everyone to remove the skewers before tucking in!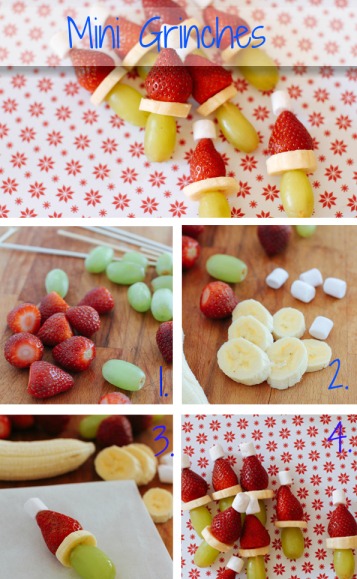 You could use bigger marshmallows, even throw in some watermelon cut into star-shapes on top of the grinches' 'hat'.
These Cranberry and pistachio biscotti are a delicious and sophisticated homemade gift.
These Caramel Christmas apples are a delicious take on toffee apples for the festive season.
You can make these Christmas chocolate spoons with the kids and enjoy some family time as you decorate them together.
These Edible glitter berries are the perfect addition to a platter, buffet table or even on the top of your favourite chocolate cake.
You can make these Christmas tree biscuits if you enjoy traditional shortbread. We topped them with a Jaffa and a shower of icing sugar.
You can make these Christmas ginger joy biscuits and thread them on string like we have. They make a delicious Christmas garland.
These little Meringue Christmas trees are dipped in chocolate and decorated with crunchy candy canes.
These Christmas crackles are also a fun cooking activity for kids. You can make them in mini cupcake sizes. They look like tiny Christmas puddings.
If you are looking for a simple homemade dessert for kids then this Christmas Yule log is the perfect buffet dessert. We topped them with sweet little snowmen made from ready-made chocolates.
These Christmas tree cupcakes are a delicious take-along addition to any party and very easily shared with friends.
This recipe was created by Sophie Hansen for Kidspot, New Zealand's best recipe finder: You can follow Sophie on Local is Lovely, Facebook, Twitter or Pinterest.