Around the end of May or early June in New Zealand, the Pleiades cluster of stars can be seen low on the north-eastern horizon just before dawn. This cluster, also known as the Seven Sisters, carries the Māori name, Matariki. The rise of Matariki and the sighting of the next new moon during June/July mark the Māori New Year.
Matariki means the 'eyes of god' (mata ariki) or 'little eyes' (mata riki). Legend tells the story of the sky father (Ranginui) and the earth mother (Papatūānuku), who were separated by their children. Tāwhirimātea, the god of the winds, became so enraged by this that he tore out his eyes and threw them into the heavens.
How is Matariki celebrated?
Traditionally, Matariki was a time to remember those who had passed. But there were also celebrations of singing, dancing and feasting thanks to full food storehouses following crop harvesting and the gathering of seafood.
Modern Māori New Year celebrations were revived in the year 2000 and the popularity of events has grown ever since. Now events to welcome the New Year occur throughout New Zealand, celebrating our unique place in the world, showing respect for the beautiful land on which we live and celebrating the diversity of life. It's a celebration of culture, language, spirit and people.
When is Matariki?
In 2021, Matariki events and festivities are taking place throughout late June and early July with the official start of Matariki being 2nd July.
Matariki traditions and activities
Kites are often flown at Matariki events as a way to reach closer to the stars
Kai (food) is a big part of Matariki festivities

You may not have the resources for a traditional hangi at home but you can still enjoy some traditional foods like seafood, fish and kumara (sweet potatoes).
Learn about your whakapapa (family history and ancestors)
Create Matariki stars with traditional weaving techniques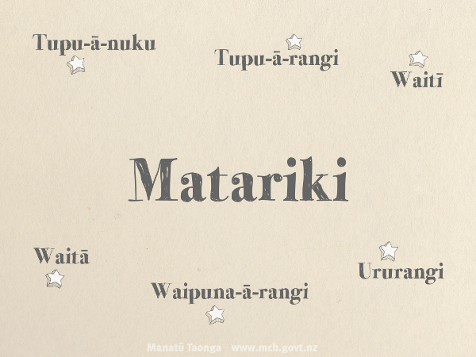 Get your free Matariki activity book
For fun kids' activities, download the printable Matariki activity book from the Te Papa website. Click here.
Sources include Te Ara, the Encyclopedia of New Zealand.
Do you have any family traditions for celebrating Matariki?
Written by Julie Scanlon
Julie is Editor for Kidspot NZ and our MVP. Her hobbies include laughing uncontrollably at her own jokes, annoying her family by asking questions about movie plots, and never taking anything too seriously. She speaks a little Spanish and a lot of Yorkshire. 
Favourite motto to live by: "It ain't nothing but a thing"