Makes about 24 cookies.
Ingredients
1/2 cup (125g) butter, at room temperature
1/2 cup (100g) brown sugar, firmly packed
1/2 cup (115g) caster sugar
2 eggs, at room temperature
2 cups (300g) plain flour
1 tsp baking powder
1 cup white chocolate, roughly chopped
1/2 cup milk chocolate, roughly chopped
Method
Step 1. Cream the butter and sugars together until pale and fluffy. Then add the eggs, one at a time, beating together between each addition. Fold in the flour, baking powder, all of the milk chocolate and half of the white chocolate pieces until well combined. Divide the dough into two and shape each portion into a log. Wrap with plastic then place in the fridge to chill for half an hour. When ready to cook, slice the dough logs into rounds, about 1.5cm thick, and place on prepared baking trays.
Step 2. Preheat oven to 180°C (160°C fan-forced) and line two baking trays with paper. Bake cookies for 15 minutes or until golden brown. Then transfer to a wire rack to cool completely.
Step 3. Meanwhile, melt the remaining white chocolate in a glass bowl over a saucepan of boiling water until smooth. Spoon crosses of the melted white chocolate on top of the biscuits as per picture.
Step 4. Let the chocolate set then store in an airtight container.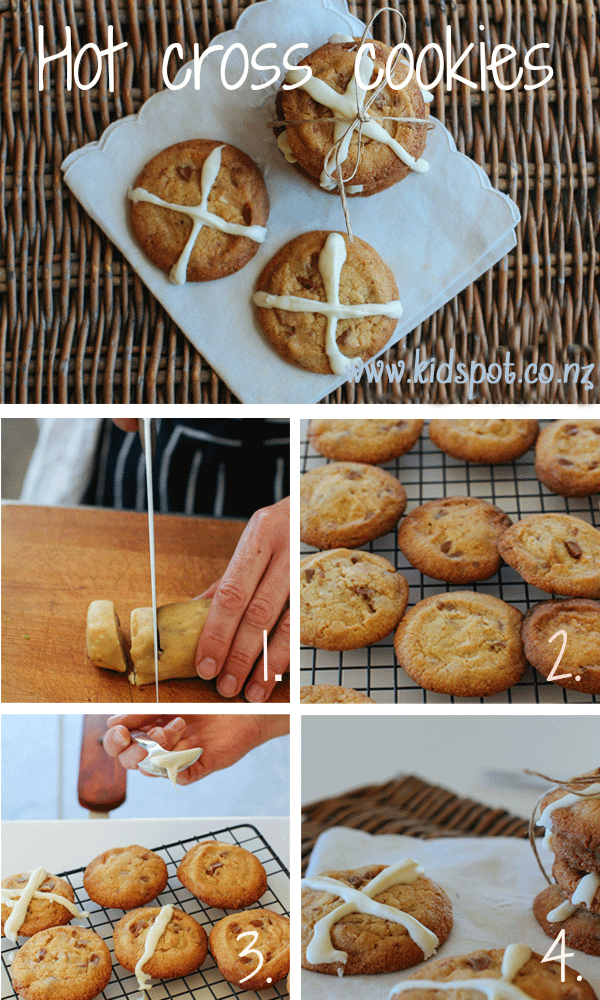 Notes:
Swap some of the chocolate pieces for roughly chopped and toasted hazelnuts or walnuts if you prefer.
Add some mixed spice to the batter for extra hot cross bun flavour as well!
You will also love this cute Easter bunny breakfast. It is the perfect savoury start to Easter Sunday for your little ones.
On the day you have your Easter egg hunt you could make these cute Bunny butt pancakes. They are just like those bunnies in the garden.
If you love Hot cross buns you will love these Hot cross cookies. They are the perfect compromise and much faster to make than their traditional cousins.
These Coconut cream eggs are perfect for when you need to know exactly what is in your Easter treats. The kids will also love making these with you.
This Cream egg cheesecake is worthy of being the centrepieces for your special Easter dinner. It is easy to make ahead and will please the whole family.
These Carrot topped cupcakes are topped with sweet marzipan but don't be fooled into thinking they are all sweet. The cupcakes under the carrots have a zingy lime flavour.
This recipe was created by Sophie Hansen for Kidspot, New Zealand's best recipe finder. You can follow Sophie on Local is Lovely, Facebook, Twitter or Pinterest.