Do away with the notion that breakfast should consist of just toast and cereal and embrace the fact that it can be absolutely anything you want it to be!
Getting off to a good start in the morning with a tasty, nutritious breakfast puts you in good stead for a great day. And when the weekend rolls in, thankfully there's more time to think outside the cereal box to plan and prepare a delectable breakfast feast for the family.
Try one of these 18 delish recipes and see just how awesome breakfast can be …
1. Pan-fried banana and Nutella sandwich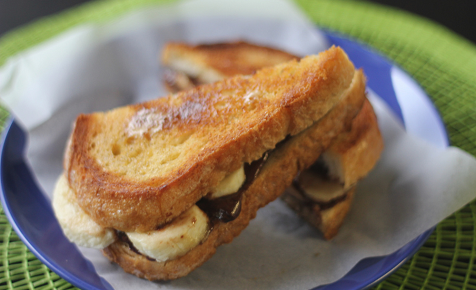 Yes, it's a Nutella and banana sandwich fried in butter. It's a 'sometimes' breakfast, but weekends are for treating yourself, no? Just make sure you go for a morning jog afterwards.
2. Bacon and eggs cups
Breakfast in a bacon cup. That's right, an edible cup made of bacon. This is the ultimate on-the-go way to eat bacon and eggs!
3. Cheese and zucchini scones
Scones … for breakfast? YES! These cheese and zucchini scones are really easy to make. Cut them in half and fill them with your favourite deli meats and condiments.
4. French toast bites
This isn't just French toast, oh no. This is French toast on a stick! Add maple syrup and you've got a feast the kids will love.
5. Bacon, spinach and feta scrolls
This is a stunning savoury delight to start off your day, starring bacon, spinach and creamy feta cheese.
6. Scrambled egg pita pockets
Hello breakfast! These savourty scrambled eggs are popped into a pita pocket for breakfast on the go.
7. Baked eggs
These days cafes are all about the baked egg – and for good reason. These little beauties are a great protein punch to start your day right.
8. Filo cups with cinnamon rhubarb
This special little number is a delightfully sweet breakfast treat wrapped in filo pastry and enhanced with a serving of crème caramel.
9. Easy homemade yoghurt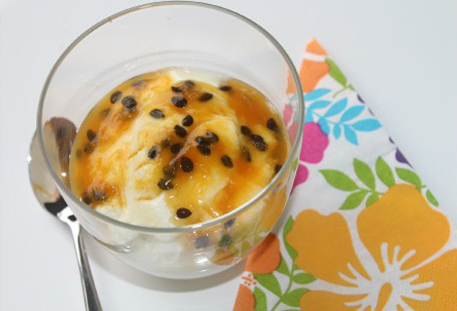 What's better than yoghurt for breakfast? Homemade yoghurt for breakfast, that's what! For around $1.50 per kg, it's a budget-friendly alternative … and believe me, your tastebuds with thank you!
10. Best baked beans ever
This is not a can of baked beans that you heat up in the microwave. No way! This is the ultimate baked beans recipe with red onion, garlic, fresh tomato and lima beans soaked overnight.
11. Chicken and smashed avocado wraps
Avocado and chicken are a dreamy combo and a perfect breakfast alternative to boring old cereal or Vegemite toast.
12. Smoked salmon and caramelised onion omelette
Oh. My. God. This omelette is to-die-for! The sweetness of the onions against the saltiness of the salmon makes for a truly tasty combination.
13. Ham and spinach egg rolls
These tasty little parcels are a scrummy breakfast-on-the-go idea and are delicious hot or cold.
14. Big breakfast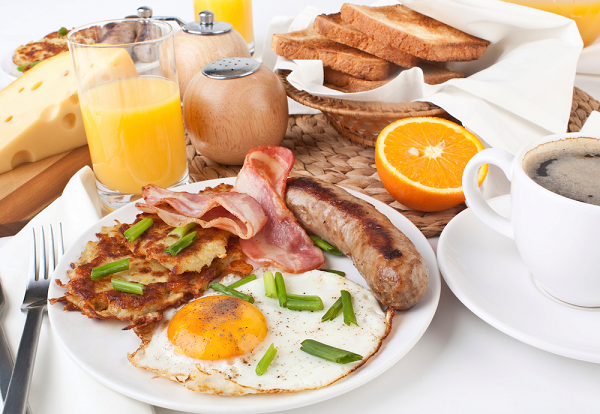 This is the breakfast of kings. Packed full of yumminess of your choice – sausages, bacon, eggs, mushrooms, hash browns, tomato and baked beans – do it your way. It promises to fill you up and keep you going for hours.
15. Haloumi with chorizo and tomato
The haloumi is pan-fried and topped with a combination of spicy chorizo sausage and cherry tomatoes. It may take longer to make than muesli, but it's superior in every way possible!
16. Sunshine breakfast smoothie
Where is the rule book that says breakfast needs to be solid? Seriously, this fruity smoothie is packed full of nutrients and a great drink to start the day anytime of the week – but it's ideal for when you're rushing out the door to get to the beach!
17. Ricotta pikelets
Sweet, filling and easy to eat on the run, these awesome little pikelets kick cereal to the curb.
18. Breakfast burrito
These hearty breakfast burritos are meant to satisfy. Packed full of potatoes, bacon, eggs and salsa they're also great for people on the go.