Easy homemade yoghurt
Serves:
Ingredients
cold tap water
1 1/2 cups full-cream milk powder
3 tbsp Easiyo Greek yoghurt real base and culture (not the whole sachet)
Method
Step 1. Gather all ingredients and boil the kettle.
Step 2. In the yoghurt making canister, fill to the hallway mark with water. Add the yoghurt starter.
Step 3. Add the milk powder.
Step 4. Place the lid on and shake vigorously until the milk power is dissolved. Remove the lid and fill to the fill line with more water. Screw the lid on tightly and shake again.
Step 5. Fill the Easiyo yoghurt maker to the fill line with boiling water.
Step 6. Place the canister inside and screw on the yoghurt maker lid. Leave for 24 hours. Remove and refrigerate. Keeps for seven days.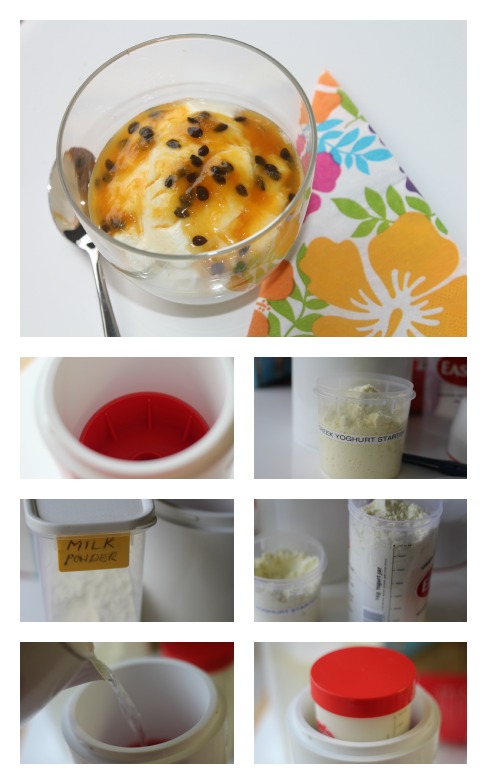 Find more breakfast recipes
Serving Suggestions
Note
Easiyo real base and culture is intended for you to use the entire sachet for a batch of yoghurt but I have discovered that using just 2-3 tablespoons is enough to give you a great yoghurt if you add extra milk powder. This makes it a lot cheaper.
When you open the base sachet you will need to store the remainder in an airtight container in the refrigerator for further use.
I purchased my Easiyo yoghurt maker for around $20 but you can also buy an electric yoghurt maker from Kmart for less than $20.
This yoghurt is unsweetened and if you would like a sweetened yoghurt, you can add 1-2 tablespoons of sugar to the canister when mixing in the milk powder and starter.
3 tablespoons from the previous batch of yoghurt is sufficient culture to start your next batch of yoghurt. This works well but sometimes can be inconsistent which is why I use the starter sachet.
Some people are happy with using yoghurt that has only cultured for 12-14 hours but I make yoghurt after dinner everyday so I can leave mine the full 24 hours. It gives you a thick and creamy consistency that is full of healthy lactobacillus with no added thickeners or preservatives.
This recipe was created by Jennifer Cheung for Kidspot, New Zealand's best recipe finder.