36
Ingredients
Icing:
To decorate:
cardboard
silver paper
tiara
wand
ribbon
Method
Step 1. Cover a large piece of cardboard with silver paper and set aside.
Step 2. Set aside enough icing for 3 cupcakes. Add one drop of food colouring at a time to the remaining icing with the mixer running. Using a rosette tip, fill an icing bag with white icing and pipe icing on 3 cupcakes. Use the pink icing to pipe the remaining cupcakes. Arrange into dress shape on the cake board, positioning the 3 white cupcakes as the 'waist' of the dress.
Step 3. Tie a bow with the ribbon and place on the 'waist' of the dress. Position the wand and tiara on cake board.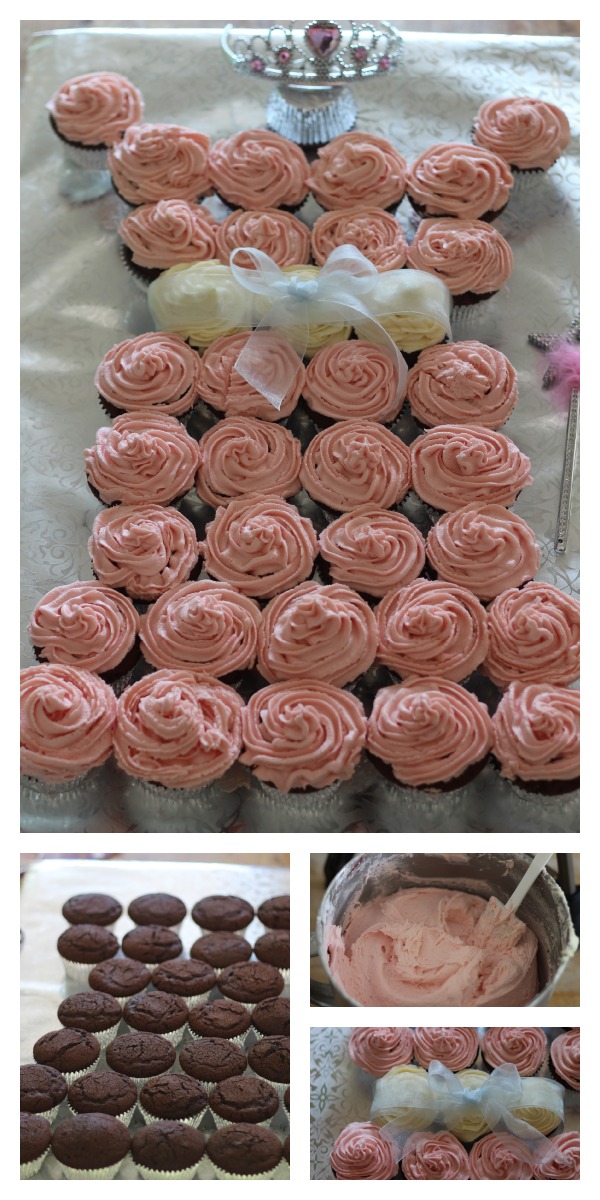 Find more Birthday Cake recipes:
We used 36 cupcakes for this dress, but you could easily make just 26 cupcakes and still make the dress like we have in the smaller image.
Don't forget that the quick chocolate cupcake mixture makes cupcake and not muffin-sized cupcakes, otherwise you won't have enough mixture.
Our dress is pink but you could leave it white, or tint the icing with red and blue to make a purple dress.
If you have time, this dress would look pretty decorated with cachous.
If you need to transport this cupcake dress you can smear some icing on the bottom of the cupcakes so they adhere to the board.
You could alternately use our 2 ingredient chocolate cupcakes recipe for these dresses.
If you are looking for some sweet cupcakes you will love these Apple and worm cupcakes.
If you would prefer a vanilla cupcake then these Basic cupcakes will do the job.
Plain Cupcakes can easily be flavoured to your liking.
This recipe was created by Jennifer Cheung for Kidspot, New Zealand's best recipe finder.