4
Ingredients
1 rotisserie chicken
1 tin (420g) cream of chicken condensed soup
4 large washed potatoes
Method
Step 1. Preheat oven to 180°C (160°C fan-forced). Grease a square 20cm x 20cm baking dish and set aside. Gather your ingredients.
Step 2. Remove all meat from chicken and chop. Heat the condensed soup in a frying pan over medium heat until warmed. Add chicken and bring to the boil. You may need to 1/2 cup of water if it is too thick. Remove from heat.
Step 3. Pour chicken mixture into the baking dish. Slice potatoes thinly and place overlapping each slice to cover the entire dish.
Step 4. Bake for 25-30 minutes or until potatoes are cooked through. Serve with steamed vegetables.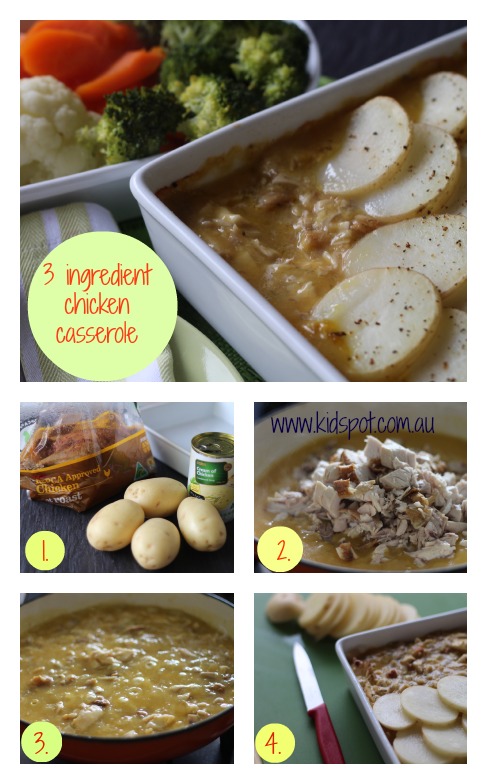 Find related 3 ingredient recipes
This is a very basic casserole and there are a number of additions that you could make to improve your dish. Add a tablespoon of dried thyme to the chicken mixture for a flavour boost, pour a bag of frozen mixed vegetables into the chicken mixture before you bring it to the boil or you could even top it with fluffy mashed potatoes.
The lovely cooking juices in the bottom of the chicken are packed with flavour – I always add those to the chicken for extra flavour.
You may need to add a little water to the chicken mixture to make a thinner gravy consistency.
I added the chicken skin along with the meat for added flavour but you can leave the skin off if you prefer.
This recipe was created by Jennifer Cheung for Kidspot, New Zealand's best recipe finder.