8 slices
Ingredients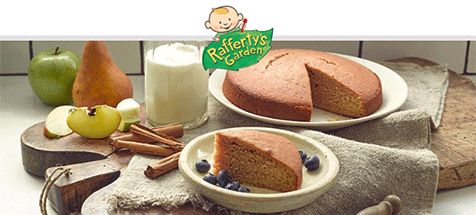 1 ½ cup flour
¼ tsp salt
½ tsp baking soda
1 tsp baking powder
100g softened butter
150g caster sugar
2 eggs
2 pouches Rafferty's Garden Apple, Pear Cinnamon Smooth Baby Food
Method
Step 1
Preheat the oven to 180°C. Grease and line an 18cm cake tin. Sift together the flour, salt, baking soda and baking powder.
Step 2
Cream the butter and sugar. Beat the eggs and add to the mixture gradually, processing well between each addition. Add the Rafferty's Garden Apple, Pear Cinnamon Smooth Baby Food pouches and mix well. Add the flour gradually and beat well.
Step 3
Pour batter into prepared cake tin and bake for 30 minutes. Lower the temperature to 160°C and bake for another 15-20 minutes until golden brown and firm to the touch.
Step 4
Allow to cool for 10 minutes then remove from tin and finish cooling on a wire rack.
This ones for the grown-ups. Suitable for toddlers 12 months +