Makes 8
Ingredients
1 cup (200g) sushi rice
2 tbsp sushi seasoning
95g tin tuna
2 tbsp mayonnaise
1/2 avocado
1 sheet nori
Method
Step 1. Place rice in a saucepan with 1 1/2 cups water. Bring to the boil, reduce heat, cover with a lid and simmer for 15-20 mins until all water has been absorbed and rice is cooked. Gently stir through sushi seasoning then turn rice out onto a flat dish to cool. Combine drained tuna with mayonnaise. Remove skin from avocado and cut into a 1.5cm dice.
Step 2. With damp hands, cup approximately 1/4 cup of rice in one hand. Place some tuna and a piece of avocado in the centre.
Step 3. Top with another 1/4 cup of rice and gently bring it together into a ball shape. Press firmly to enclose.
Step 4. Using sharp scissors, cut shapes from the nori. Press onto balls to decorate.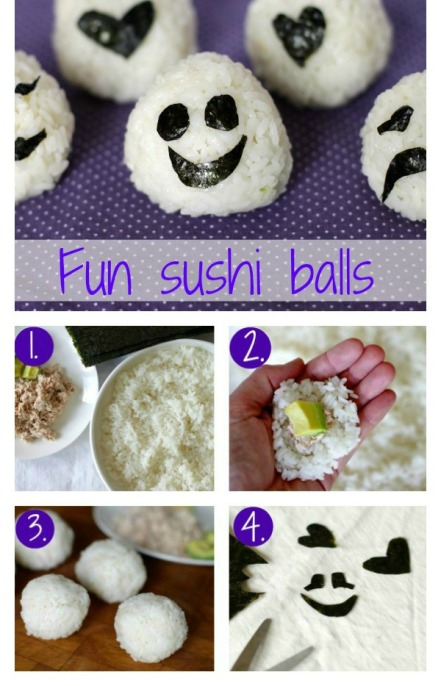 Notes
Wrap individual balls in glad wrap and store in the fridge before packing into insulated lunch boxes.
Vary the filling according to your child's tastes. You could even omit the filling altogether and just make plain rice balls.
These Baby sushi are for children that love their sushi plain and simple.
If you haven't made sushi before then you can follow our step by step guide with Beginner's sushi.
You can fill your sushi with tuna like we have in this DIY tuna sushi hand roll or go with salmon in this Salmon and cucumber sandwich sushi.
If you are making an entree for a special meal then this Crabmeat and avocado sushi is perfect for special occasions.
You can try making this Ice cube sushi with your kids. It's simple and tasty and they will love those tiny bites.
If you haven't made sushi before then begin with this Sushi rice.
This recipe was created for Kidspot, New Zealand's best recipe finder, by Greer Worsley, who blogs at Typically Red.