Ingredients
1 mandarin
2 tbsp currants
4 mini marshmallows
2 red Life Saver lollies
1 banana, peeled
Method
Step 1. First off, start with Ernie. Peel the mandarin and reserve peel. Gently pull away one-third of the segments, or enough to get the fruit to sit flat on your chopping board. Using a serrated knife, cut a wedge out for the mouth. Cut 2 circles from the peel for the ears and place on either side of the head.
Step 2. Place about 12 currants on top of the head for hair. Carefully cut the ends off 2 of the mini marshmallows (this should make them nice and sticky). Position the marshmallows for eyes and add a currant for the pupils. Place the Life Saver on top of the mandarin to become Ernie's mouth.
Step 3. Now let's move on to Bert! Chop one-third of the banana off the bottom and shave a little off the back to make it sit flat. Cut a small slot for his mouth.
Step 4. Cut 2 rounds of mandarin peel for Bert's ears and large oval for his nose. Place currants on for his hair and eyebrows. As before, trim the ends off the remaining 2 marshmallows and stick them to the banana for the eyes. Add currants into the centre for the pupils. Pop the last Life Saver into the mouth slot and there you go – all done!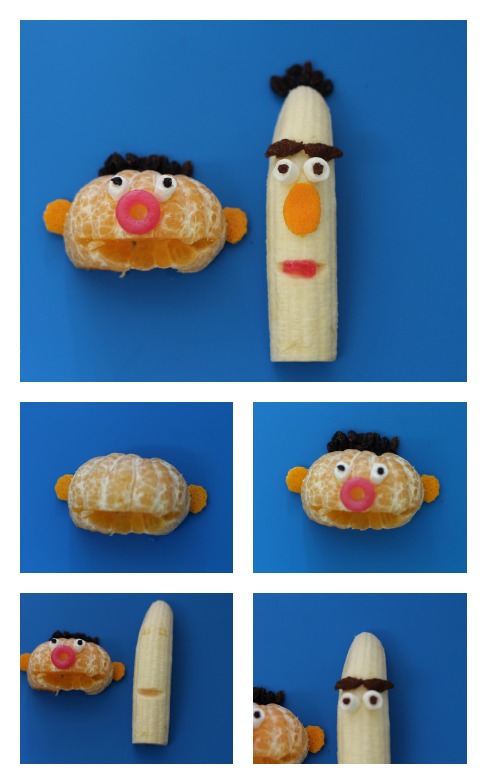 Find related fruit recipes
If you don't have currants, sultanas will do.
Get the kids to help with making up the faces, such as sticking the eyes on, positioning the ears and making the hair.
This recipe was created by Jennifer Cheung for Kidspot, New Zealand's best recipe finder.