Brookies
Serves:
Makes 12
Ingredients
Cookie:
1/2 cup (125g) butter, softened
1 cup (225g) white sugar
1 egg, lightly beaten
2 1/2 cups (375g) self-raising flour
400g M&M's Minis
Brownie:
3/4 cup (180g) butter
3 eggs, lightly beaten
1 1/4 cup (285g) white sugar
2 tsp vanilla
3/4 cups (120g) self-raising flour
1/2 cup cocoa powder
1/2 tsp salt (optional)
Method
Step 1. Preheat oven to 180°C (160°C fan-forced). Line a 12-cup muffin tin with patty liners and set aside.
Step 2. First, you need to make the cookies. Using a mixer, cream the butter and sugar together until totally combined, then add the egg with the mixer running. Add the flour, half a cup at a time, with the mixer running until all of the flour is combined. Add the M&M's until just mixed in. Roll the dough into teaspoon-sized balls and chill in the fridge for 10 minutes.
Step 3. Now it's on to the brownies! Melt the butter on the stove or in the microwave, then keep to one side. Using a mixer (make sure you've cleaned it first if it's the same one you used for the cookies), beat the eggs and sugar together, then add vanilla, flour, cocoa, salt (optional) and the melted butter.
Pour each patty liner one-third full of brownie batter. Place cookie balls on top of the batter.
Step 4. Bake for 20-25 minutes. Or until the top is firm to touch.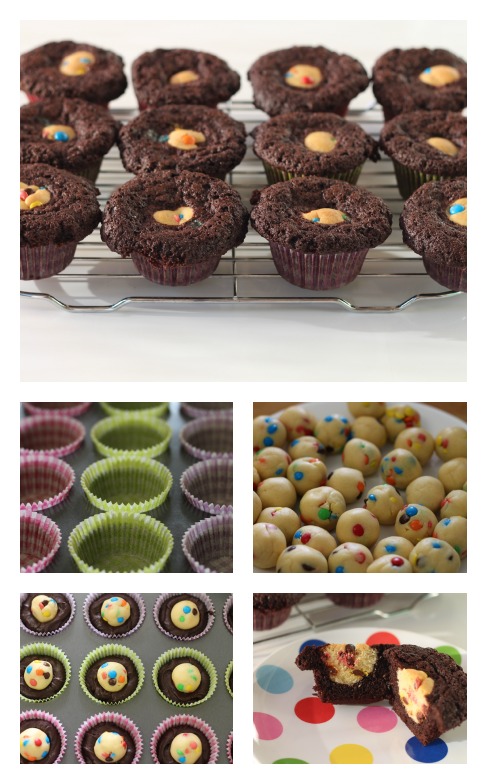 Find related brownie recipes:
Serving Suggestions
Note
You can just throw the cookies balls on top of the batter, but they do tend to sink. They still taste great though!
I used M&M's in my cookie dough, but you could use chocolate chips instead.
This recipe was created by Jennifer Cheung for Kidspot, New Zealand's best recipe finder.