12-14 wraps
Ingredients
500g sirloin steak, sliced (very finely against the grain)
Marinade:
1/2 ya or nashi pear
1/2 brown onion
4 cloves garlic, crushed
1 small piece (about 2cm) ginger, chopped
2 tbsp soy sauce
2 tbs brown sugar
1 tbsp sesame oil
1 shallot (green onion)
1 carrot, finely sliced
1/4 tsp black pepper
For serving:
2 tbsp toasted sesame seeds
large lettuce leaves, washed and dried
carrot sticks
cucumber sticks
garlic slices
sliced chilli
ssamjang (Korean sauce)
Method
Step 1. Place the pear, onion, garlic and ginger into a food processor and process until you have a smooth paste. To the puree add soy, brown sugar, sesame oil, shallot, carrot and pepper. Combine well.
Step 2. Add the meat to the marinade and massage gently to ensure all of the meat is well coated. Leave to marinate for 30 minutes when using good quality beef cuts – overnight when using cheaper cuts.
Step 3. Heat a hot plate or barbecue to high heat and cook beef quickly. This should take less than 5 minutes as the beef is tenderised by the marinade.
Step 4. Place pieces of beef into lettuce cups, add ssamjang then vegetables and fold. Eat and enjoy!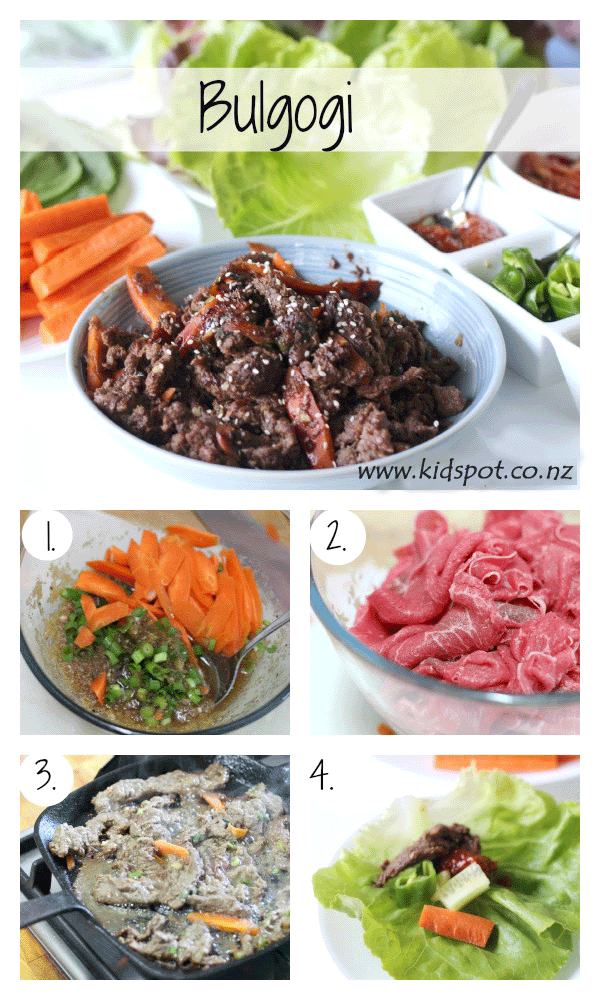 Notes:
We used a ya pear but it is also acceptable to use a regular pear or even a kiwi fruit. This does sound unusual but it is the enzymes in the fruit that tenderise the meat. This allows you to use a much cheaper cut and still have a great finished product.
Ssamjang is soy bean sauce that you can buy in Asian supermarkets or you can even make your own.
You can also use skirt steak, flank steak and tenderloin.
If you really love the fresh combination of beef and salad then this Thai beef salad with nam jim is packed with deliciously fresh Asian flavours.
You could also try this Balsamic steak salad but be sure to cut that steak against the grain for a nice, tender strips.
If you would prefer to flash fry your beef and have dinner on the table quickly then this Beef and glass noodle stir fry is quick an easy due to the noodles just needing a quick soak in boiling water.
We have hit the flavour trail with this delicious Chilli garlic beef stir fry. The flavour comes out of a sneaky little jar of chilli and garlic that you can buy in the Asian section of the supermarket.
This recipe was created by Jennifer Cheung for Kidspot, New Zealand's best recipe finder.