Carrot topped cupcakes
Serves:
Makes 12 cupcakes
Ingredients
1 1/2 cups (225g) self-raising flour
1 1/4 cups (280g) caster sugar
3 eggs, room temperature
1/2 cup (125g) butter, softened and cubed
1/2 cup (125ml) milk
zest and juice of two limes
1 tsp vanilla paste
For the icing:
250g cream cheese (softened)
1/2 cup (80g) icing sugar, sifted
zest and juice of one lemon
1 packet store-bought marzipan (for the carrots)
orange and green food colouring.
Method
Step 1. Preheat oven to 180°C (160°C fan-forced) and place cupcake liners in a 12-hole muffin tin. Combine all ingredients and beat for five minutes. Spoon into muffin tin and bake for 15 minutes if making cupcakes (or until golden and a skewer comes out clean). While cakes are cooking, take three-quarters of the marzipan and knead the orange food colouring into it (gloves are a good idea here!) then set aside. Knead the green colouring into remaining marzipan.
Step 2. Let the cupcakes cool completely on a wire rack while making the icing. To do this just beat together all ingredients until you have a nice, tangy and thick consistency. 
Step 3. Make the carrots by shaping a piece of the orange marzipan (about the size of a Malteser) into a small fat sausage, then work one end into a point and gently roll in the palm of your hand until you have a horn or carrot shape. Repeat with remaining carrots. Score lines across each one with a sharp knife. Shape the green marzipan into little carrot tops and gently press two into the top of each carrot. Keep in the fridge until needed.
Step 4. To assemble, generously ice the cupcakes then press one or two carrots into the top of each one. Sprinkle with remaining lime zest and serve.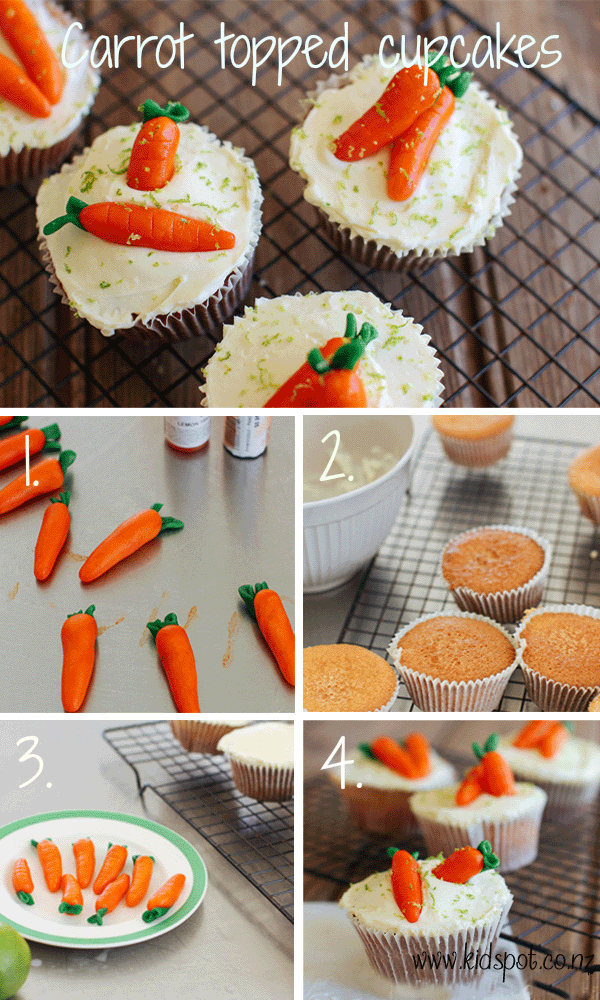 Notes:
You may use fondant instead of marzipan if you prefer.

You can also make one large cake instead of 12 cupcakes. Simply pour the cake mixture into a greased and lined 24-cm springform cake tin and bake for 30-35 minutes instead of 15-20 minutes.

You will also love this cute Easter bunny breakfast. It is the perfect savoury start to Easter Sunday for your little ones.
On the day you have your Easter egg hunt you could make these cute Bunny butt pancakes. They are just like those bunnies in the garden.
If you love Hot cross buns you will love these Hot cross cookies. They are the perfect compromise and much faster to make than their traditional cousins.
These Coconut cream eggs are perfect for when you need to know exactly what is in your Easter treats. The kids will also love making these with you.
This Cream egg cheesecake is worthy of being the centrepieces for your special Easter dinner. It is easy to make ahead and will please the whole family.
These Carrot topped cupcakes are topped with sweet marzipan but don't be fooled into thinking they are all sweet. The cupcakes under the carrots have a zingy lime flavour.
This recipe was created by Sophie Hansen for Kidspot, New Zealand's best recipe finder. You can follow Sophie on  Local is Lovely, Facebook, Twitter or Pinterest.
Serving Suggestions
Note