Cheesy filo triangles
Serves:
Ingredients
200g fresh ricotta
3/4 cup peas (frozen is fine)
2 tbsp chopped mint
2 tbsp grated parmesan (optional)
1 egg
1 packet filo pastry
100g butter, melted
Method
Step 1: Combine ricotta, peas, mint, parmesan, egg and seasoning.
Step 2: On a clean board, place your roll of filo pastry, and cut it into quarters. Cover three of the pieces with a damp towel so they don't dry out, and take the fourth and unroll it, placing a few sheets side by side on the bench with the short ends in front of you.
Step 3:  Brush each strip with melted butter, then top with another sheet. Brush again, and add a third strip. Place a heaped teaspoon of the cheese filling at one end of each strip.
Step 4:  Fold over one corner 45 degrees to form a triangle, enclosing the filling. Now flip it over, this time 90 degrees.
Step 5: Keep going, folding 45 degrees then 90 degrees, all the way to the top. Brush the end with some more melted butter and seal.
Step 6: Repeat until you have used all of the filling. Preheat oven to 200°C or 180C fan-forced. Place triangles on a lined baking tray and brush the tops with a little more butter. Bake for 20 minutes or until golden and flaky.
Notes:
Make smaller triangles to serve as finger food by cutting the roll of filo into 5 or 6 even pieces, creating thinner strips.
Once filled and rolled, you can freeze triangles in a single layer until required. Just add an extra 5-10 minutes to the baking time.
Serve with a yoghurt dip made with natural yoghurt, chopped herbs, lemon juice and a drizzle of olive oil
Recipe by Greer Worsley, a working mum whose desire to make and bake things has grown in inverse proportion to the amount of spare time she has since her three gorgeous girls came along.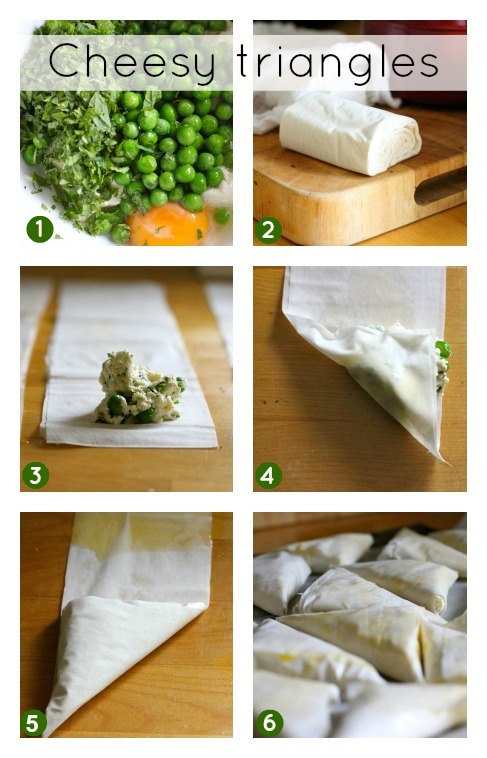 Find more related recipes
Serving Suggestions
Note