Chocolate-dipped strawberry flower birthday cake
Serves:
Ingredients
2 chocolate cakes baked in 20cm round tin (I use the Everyday chocolate cake recipe)
1 punnet strawberries
Bamboo skewers
half a packet white choc melts
375g dark chocolate
Coloured sprinkles
1 packet mint leaves
Icing
200g unsalted butter, softened
half a cup full cream milk
1 tbsn vanilla extract
8 cups sifted icing sugar
1 cup cocoa
Method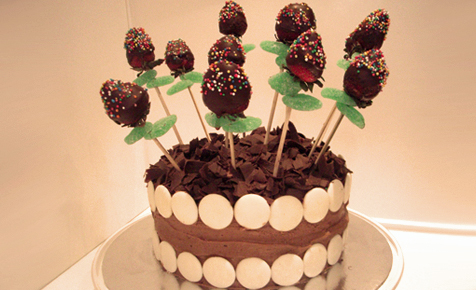 Prepare cakes according to instructions. Level each cake with a knife and spread one cake with the butter cream icing. Sandwich one cake on top of the other to form the base. Ice the entire cake with the remaining icing.
Buttercream Icing
Cream butter for 1-2 minutes. Add the milk, vanilla , cocoa and half of the icing sugar. Beat for approximately 3 minutes. Add the remaining icing sugar and beat for another 3 minutes. The icing is ready to use straight away.
Decorations
Press white chocolate melts around the top of the bottom of the cake whilst the icing is still wet. This will help the chocolate to stick.
Using a vegetable peeler, peel the block of dark chocolate to make little chocolate curls. Sprinkle these over the top of the cake to make the dirt for the flowers to sit in.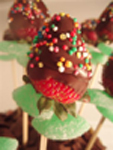 Wash and dry strawberries. Insert a skewer into the base of each strawberry. Melt 100g dark chocolate. Dip each strawberry into the melted chocolate and sprinkle with coloured sprinkles.
Thread two mint leaves onto each skewer.
Position strawberries on cake by poking one end of the skewer into the cake. These are the flowers.
Notes
Strawberries can also be dipped in white chocolate for a different effect.
The chocolate hardens quickly on the strawberries so make sure you have your sprinkles ready when you come to decorating the strawberries.
If you choose not to use the chocolate cake I suggest, mak sure you use a dense cake, as you need the weight of the cake to support the weight of the strawberries.
This recipe was created by Katherine Petric for Kidspot, New Zealand's best recipe finder.
Serving Suggestions
Note