If you go out to the woods today, make sure you take some teddy bear treats. Kids of all ages and stages love a teddy bear, especially an edible one. These recipes are child's play to make – so get your kids to help. They are the best sweet (and savoury) teddy-inspired treats Kidspot has to offer. Start organising that teddy bear picnic!
Teddy bear pancakes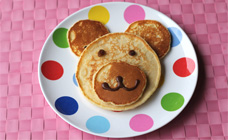 What child wouldn't adore looking down at a plate and finding ted grinning back? Instantly boost their mood by turning basic pancakes into happy teddy faces. Perfect for breakfast, brunch or just because. Now that's sure to put a smile on any child's dial.
You can use our basic pancake recipe
Tiny Teddy trains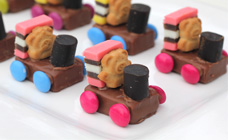 C'mon ride the train – the Tiny Teddy train that is! These little guys look brilliant on top of a cake, on the party table or just served up as a snack. All you need to make Tiny Teddy trains is some store-bought lollies and biscuits, and a few minutes of your time. No cooking necessary. Hurrah!
Sleepy Tiny Teddies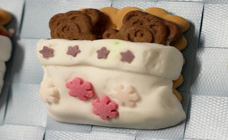 Nothing says 'it's naptime' like a cute snack of teddies snuggled under a blanket. These biscuit based treats use pre-made ingredients, like plain biscuits and fondant, so you won't need to do any cooking, mixing – or really much work at all. In fact, these sleepy Tiny Teddies are almost too cute to eat. Almost.
Tiny Teddy cars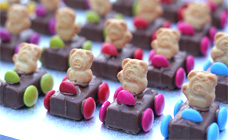 There are few things cuter than a Tiny Teddy driving a car. Even better, they're really easy to make. All you do is combine store-bought chocolate goodies with Tiny Teddy honey biscuits. That's it! These no-bake treats will race into the hearts of both kids and mums.
Tiny Teddies pool party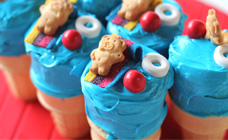 How adorable are these chilled out Tiny Teddies? These guys may appear to be just relaxing by the pool, but under that blue 'water' lies another layer of cupcake fun. That means you've got teddies, cupcake and kid-friendly cones all in one recipe.
Try the Tiny Teddies pool party recipe
Chocolate-iced teddy bear cake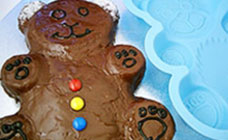 Baking a teddy bear is a piece of cake. Armed with this easy vanilla cake recipe, simple chocolate frosting directions, and a teddy bear tin (or even two round tins to make a face and ears out of) – you'll have a cute teddy bear cake in no time.
Try the Chocolate-iced teddy bear cake recipe
Savoury teddy scones with beef and mash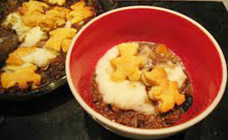 Dinner can be cute AND good for you. Try serving up these cheesy teddy scones with mince, hidden veggies and creamy mash. Piled high in a bowl, they look just like teddies climbing a snow-capped mountain. Even the fussiest eater couldn't pass that up.
Try the Savoury teddy scones with beef and mash recipe