6 pieces
Ingredients
750g pork fillets, sliced into 4cm chunks
1 cup (150g) plain flour
3 eggs, lightly beaten
1/2 cup (125ml) milk
3 cups panko breadcrumbs
vegetable oil for deep frying
Tonkatsu sauce:
1/2 cup (125ml) tomato sauce
1/4 cup (80ml) Worcestershire sauce
2 tbsp soy sauce
1 tsp mirin (Japanese rice wine)
1 tsp caster sugar
1 tsp English mustard
Method
Step 1. Place the chunks of pork fillet between two pieces of cling film and gently tap with a meat mallet until you have pork steaks that are 5mm thick.
Step 2. Set up a crumbing station by placing the flour on a plate, beating the eggs with milk in a bowl and placing panko breadcrumbs on a plate. Flour, egg-wash and breadcrumb all pork pieces.
Step 3. Place all sauce ingredients into a bowl and whisk until well combined.
Step 4. Heat oil on high in a frying pan and fry each piece, turning halfway through for 2-3 minutes or until golden. Leave to sit on paper towel for a few minutes to drain off the oil. Slice into 1cm thick strips and serve with Tonkatsu sauce.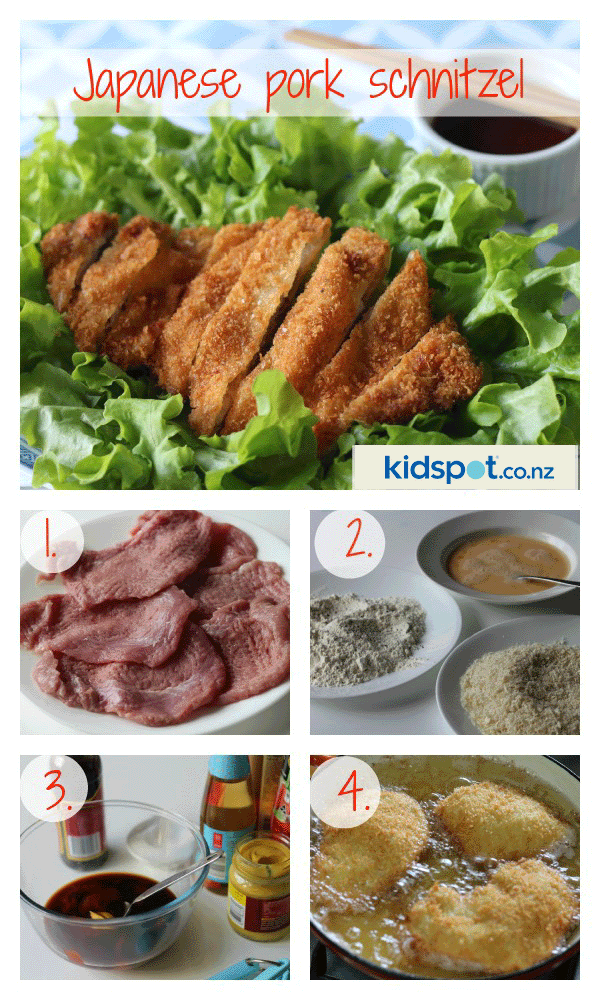 If you drain schnitzel on a wire rack, it stays crisp.
This schnitzel also goes well with Kewpie (Japanese-style) mayonnaise.
Panko breadcrumbs are essential to a nice crisp and crunchy coating in this recipe.
You can make this schnitzel into a cheese-y Chicken parmigiana for a slight variation.
If you are fond of an extra crunchy schnitzel then give this Crunchy chicken schnitzel a go.
If you think you need a flavour boost then add some garlic like we have in this Garlic chicken schnitzel.
Healthy chicken schnitzel is almost a contradiction but we have managed to reduce the fat in this one.
This recipe was created by Jennifer Cheung for Kidspot, New Zealand's best recipe finder.