4
Ingredients
1 kg large green prawns (with tail on)
1/2 cup (125g) butter
1/2 cup (125ml) vegetable oil
12 cloves garlic, chopped
1 tbsp chilli flakes
1/2 cup parsley, finely chopped
lemon slices to garnish
Method
Step 1. Preheat oven to 180°C (160°C fan-forced). Cover baking tray with baking paper and lay prawns out on the tray, evenly spaced.
Step 2. In a small saucepan heat the butter and oil over a medium heat and add the garlic and chilli flakes. Cook for 1 minute.
Step 3. Pour garlic butter mixture evenly over the prawns.
Step 4. Bake for 10-15 minutes. Garnish with parsley and lemon slices.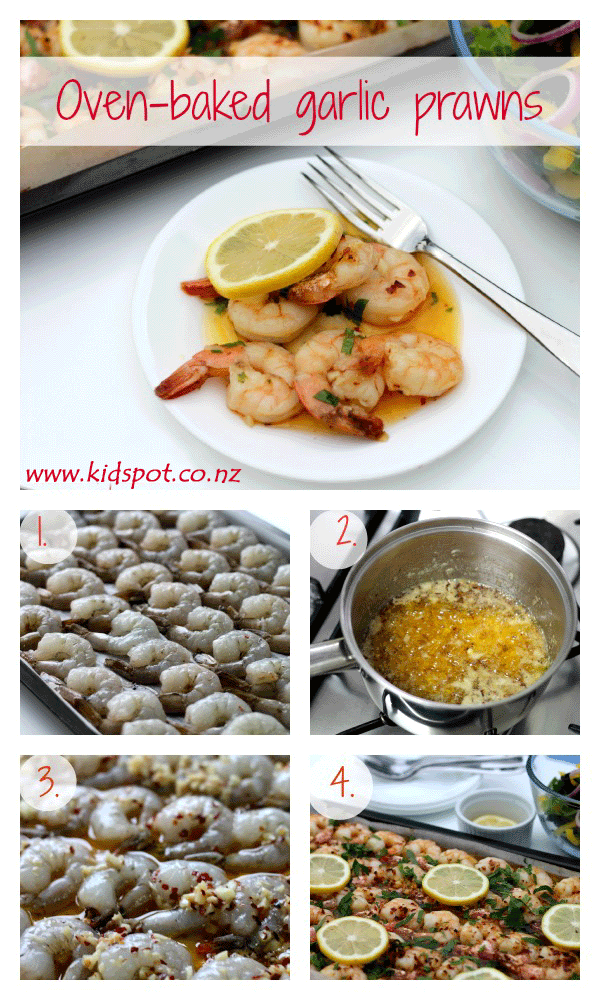 Notes:
I like to serve these with crusty bread to mop up all the delicious garlic butter.
This is especially good for when you have to feed a crowd and it's a good way to cook the prawns without over-cooking them.
We used chilli flakes but if you are serving these to little ones then you may like to omit them.
If you have a fresh batch of delicious prawns that are already cooked then you may like to make these Fresh prawns with two dips.
When you want garlic prawns but are after a substantial meal then you can try this Lemon and garlic prawn pasta. It's filling and delicious.
When you want pizza but are sick of eating the traditional types you can go gourmet and try this Garlic prawn pizza. It is packed full of flavour.
When you need to impress these Prawn and avocado stacks have layers of avocado, tabouli and fresh prawns.
If you have any prawns left, you can add them to this delicious Prawn fried rice.
These Prawn toasts are popular in any Chinese restaurant but did you know you can make them at home yourself?
If your family is not fond of chilli then you may like to try these Lemon garlic prawns. They are so easy and will have the kids asking for more.
This recipe was created by Jennifer Cheung for Kidspot, New Zealand's best recipe finder.