6
Ingredients
2 tbsp butter
1 medium brown onion, diced
3 cloves garlic, sliced
1 1/2 cups rice
1 1/2 cups (375ml) chicken stock
1 x 400g tin chopped tomatoes
1 tsp ground cumin
6 (600g) chicken tenderloins
1/2 cup chopped continental parsley
Method
Step 1. Turn the rice cooker on to heat and add the butter, onion and garlic. Saute until the onion is translucent.
Step 2. Add the rice, stock, tomatoes and ground cumin. Lay the chicken tenderloins on top.
Step 3. Cover and cook for 20 mins. You may need to press the cook button a couple of times with an automatic rice cooker.
Step 4. Remove the tenderloins, chop and return to the pot with the chopped parsley and stir gently to combine.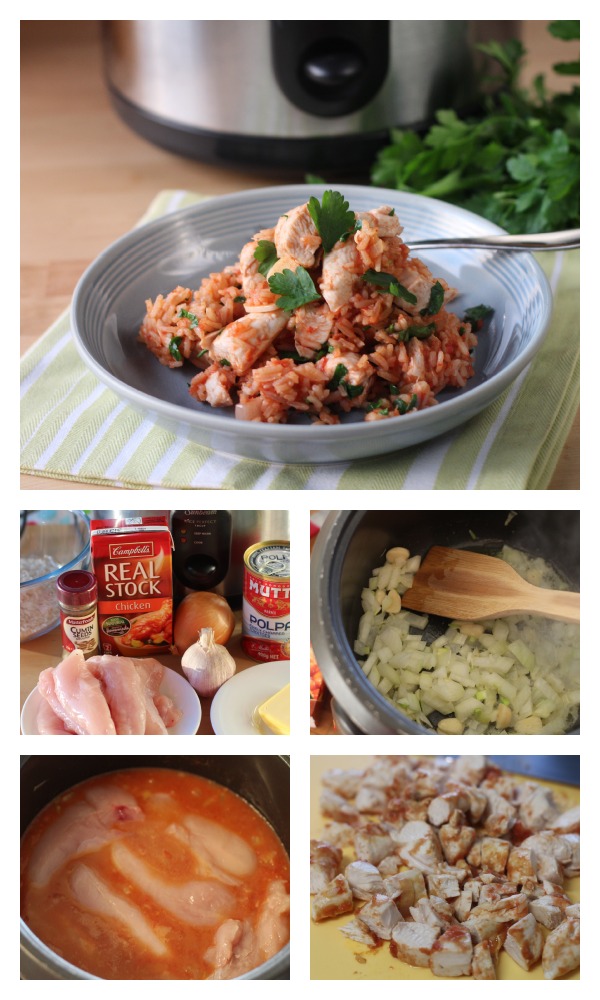 Related rice recipes
The rice cooker I used for this dish is a very basic 8 cup cooker that has only two settings – cook and keep warm. The thermostat turned the cooker off a couple of times (when I was cooking the onion and midway through cooking the rice) so I had to press the cook button again. This may not be necessary with a digital rice cooker. Just keep an eye on it while cooking.
Leaving the chicken pieces whole on top of the rice to cook allows them to poach gently and you have moist chicken pieces for the final product.
If you use the rice cooker to keep this dish warm, you may need to stir through some additional pureed tomatoes before serving.
I used chicken stock for this but you could also use vegetable stock.
This recipe was created by Jennifer Cheung for Kidspot, New Zealand's best recipe finder.