Ingredients
4 cups full-fat ice cream
3 cup self-raising flour
Method
Step 1. Preheat oven to 180°C (160°C fan-forced). Line a loaf tin with baking paper and set aside. Place softened ice cream in a bowl.
Step 2. Add flour and mix until just combined.
Step 3. Pour into loaf tin and distribute evenly.
Step 4. Bake for 60 minutes or until a skewer pushed into the centre comes out clean.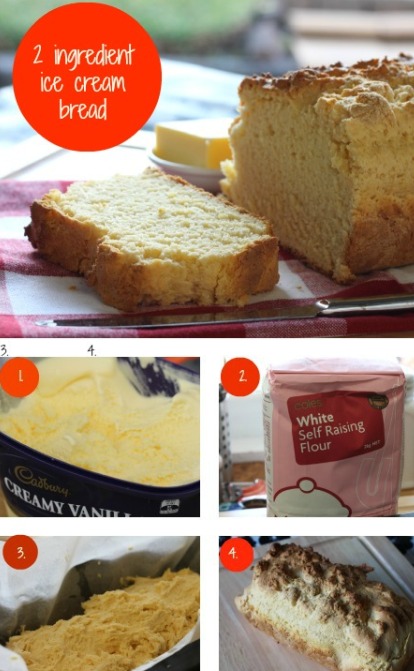 Find related 2 ingredient recipes
This recipe is very sticky. It sticks to the bowl, to the beaters and just about everything it touches.
Do not be tempted to mix it into a dough-like consistency or it will become tough when cooked.
This 'bread" has a scone-like consistency. It's sort of like a cross between cake, scones and bread.
You can use any flavour ice cream that you like but please make sure it is full-fat as this recipe has not been tested with low-fat ice cream.
This recipe was made by Jennifer Cheung for Kidspot, New Zealand's best recipe finder.