Christmas tree cookies recipe
Serves:
Makes approx 18
Ingredients
125g butter, softened
1/2 tsp vanilla
1 cup brown sugar
2 eggs
2 1/2 cups plain flour
1 tsp baking powder
1 pkt mini chocolate candies eg M&M's
Method
Step 1
Beat butter, vanilla and sugar until creamy. Add eggs one at a time, beating well. Finally, mix in flour and baking powder until just combined.
Step 2
Form cookie mixture into two logs, approximately 6cm diameter. Wrap in baking paper and refrigerate for at least an hour.
Step 3
Preheat oven to 200°C (180°C fan-forced). Slice cookie logs into 1cm rounds.
Step 4
Place rounds onto lined baking trays, leaving room for the cookies to spread.
Step 5
Use candies to create Christmas tree shapes on the top of each cookie, pressing them gently into the dough.
Step 6
Bake for 10 minutes until golden brown.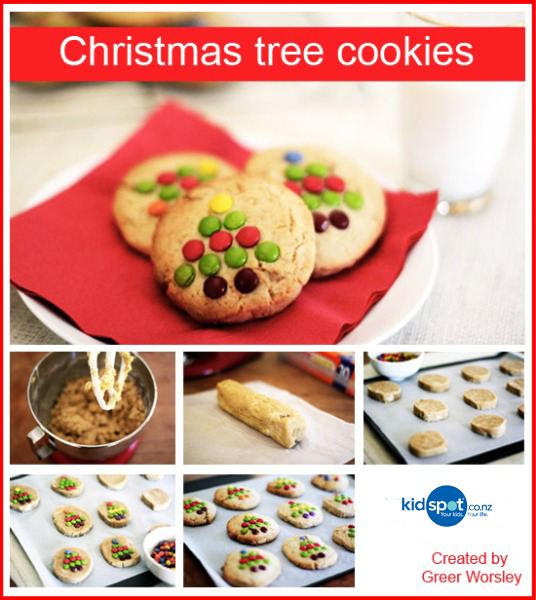 Serving Suggestions
Note
If mini M&M's are unavailable, you can purchase candies in the baking section of the supermarket.
For a quick short cut, purchase pre-made cookie dough.
Recipe by Greer Worsley, who blogs at Typically Red.