Dino birthday cake
Serves:
Ingredients
2 pkt x Betty Crocker Devils food cake
6 eggs
half a cup vegetable oil
1 cup water
Icing and decoration

2 Betty Crocker Creamy deluxe vanilla frosting
3 tsp green food colouring
2 sachets of chocolate Icing from the cake mix
1 medium pkt M&Ms (Just the brown ones – the rest are for mummy!)
Method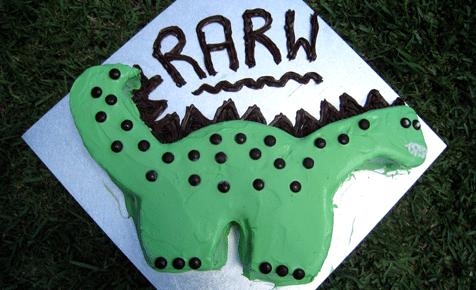 Prepare cakes in 2 x 9 inch round cake tins as per the packet directions.
Freeze both cakes before cutting and frosting. When ready to create your dinosaur, remove the cakes from freezer and trim tops so both cakes are the same height and sit flat on the board when turned upside down.
Cut a slice off the bottom of one cake and create an upside down U shape to make the dinosaur body.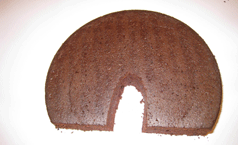 Make a template of a head shape and a tail shape on a 9 inch diameter piece of paper and cut these from the second cake.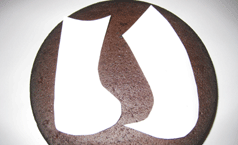 Arrange all pieces of cake into dinosaur shape on a tray or cake board.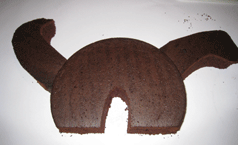 Open frosting sachets and reserve 2 tablespoons of the (white) icing for the teeth and eye dots. Tint the remainder of the frosting with 3 teaspoons of green food colouring. Mix well. Place a big smear of this frosting on the bottom of each piece and position into final dinosaur shape. This helps it stick to the tray or board.
Apply a thin coat of icing all over the dinosaur and return to the fridge for an hour. This is called a crumb coat and helps seal the cake so the final product is smooth and crumb free. Recoat the cake in a final coat of icing smoothing all edges ready for decoration. Give the Dinosaur back spots, toes and two eyes with the M&Ms. Use a piping bag to dot the eyes and make some teeth with the reserved white frosting.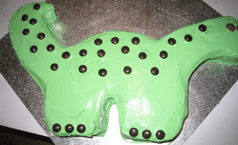 Take the chocolate icing sachet and squeeze into piping bag and pipe some spikes onto the board above the Dinosaur (a freezer Ziplock bag with the tip cut off one corner works well if you dont have a piping bag). Surprisingly this cake freezes really well. If you are freezing it add the M&Ms just before serving.
Notes:
Freeze the cake before you start to cut the shapes as this will give you a sharp edge to all the cuts you make as well as keeping the crumbs to a minimum.
Go easy on the amount of green colouring you add to the icing or you will end up with a flouro cake and hyperactive party guests!
This recipe was created by Jennifer Cheung for Kidspot, New Zealand's best recipe finder.
Serving Suggestions
Note