Ingredients
3 cups (450g) plain flour
1/2 tsp baking powder
1 cup (250g) butter, softened
1 1/3 cups (300g) caster sugar
2 eggs
2 tsp vanilla extract
1 quantity Royal icing
You will also need:
bunny cookie cutter
toothpicks
resealable bags
decorations (confetti and love hearts)
Method
Step 1. Preheat oven to 180°C (160°C fan-forced). Line two baking trays with baking paper and set aside. Sift flour and baking powder together.
Step 2. Using a mixer, beat butter until pale and creamy. With the mixer running, add sugar and then eggs one at a time. Add vanilla and then flour, mixing until the flour is just combined. Divide mixture into two discs and refrigerate for 20 mins. Roll out on a floured board to around 4mm thick. Cut bunny shapes out with the cookie cutter, taking care to dip the cutter into flour between each cut. Work as quickly as possible because this mixture needs to be firm to make clean cuts. Bake for 7- 10 minutes and remove from oven when still pale. Cool on a wire rack.
Step 3. Prepare a quantity of Royal icing and place into a resealable bag. Snip the tip with a very small opening and pipe around the very edge of each bunny cookie.
Step 4. Remove the remaining icing from the bag and stir in 1-2 tbsp of water. Place into a resealable bag and snip the end. Now fill inside the previous line that you have piped to fill in the blank area. Use a toothpick or skewer to help the mixture join together so you have no gaps. While the icing is still drying you can place on the decorations for the bunny nose and waistcoat buttons. Leave to dry for 2 hours or overnight until the icing has hardened. Store in an airtight container.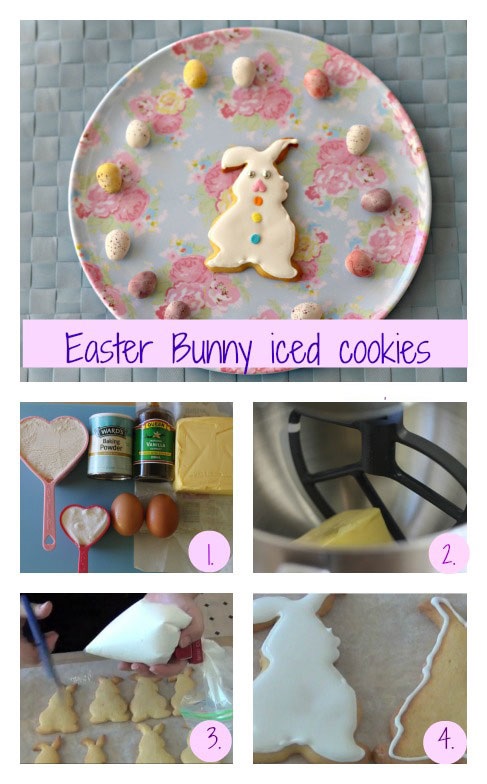 Find related Easter recipes
You need to work with this dough quickly as it has a high butter content and can go from firm rollable dough to a melting mess quickly.
If you don't want to use white icing just add a few drops of food colouring to tint the Royal icing.
This recipe was created by Jennifer Cheung for Kidspot, New Zealand's best recipe finder.