Ice cream tacos
Serves:
Makes 12
Ingredients
375g dark cooking chocolate
12 taco shells
2ltr ice cream
sprinkles, chocolate chips, crushed nuts
Method
Step 1. Break chocolate into squares and place in a heatproof bowl. Heat in the microwave on high for 1 minute and then stir and stand for 30 seconds. Heat for a further 30 seconds or until melted.
Step 2. Place the taco shells in a tray in the upright position.
Step 3. Fill each shell with ice cream.
Step 4. Drizzle with melted chocolate or press sprinkles, chocolate chips or nuts into the ice cream. Place in the freezer for two hours to set before serving.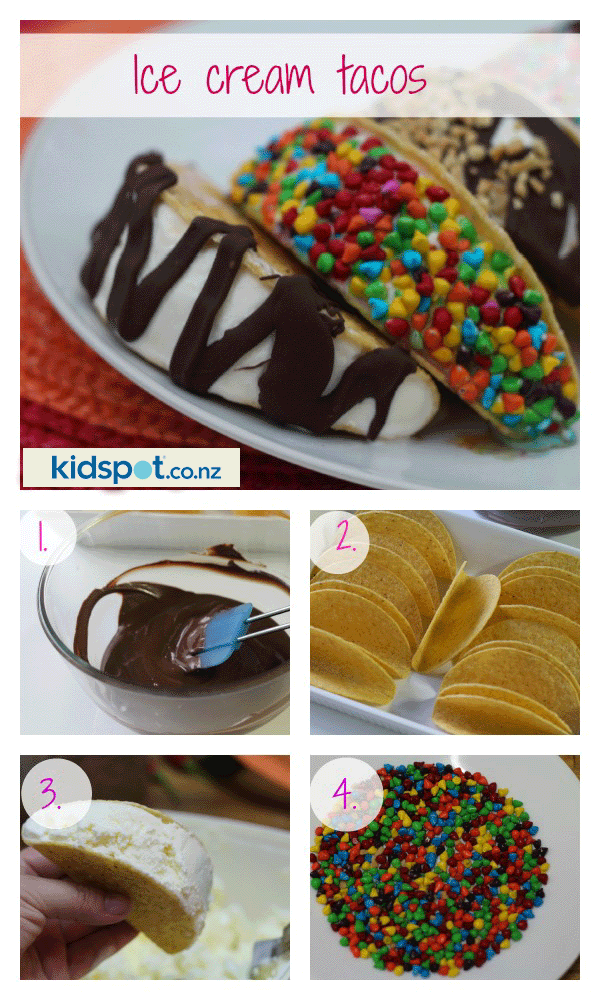 Serving Suggestions
Note
If the weather is warm, you will need to put these straight into the freezer as you make each one.
We used a palate knife to fill and smooth these tacos. It gives them a nice smooth edge.
We used melted cooking chocolate for these ice cream tacos but you could use a ready-made chocolate topping like Ice Magic.
If you are looking for a fruitier style frozen dessert then try this 3-ingredient mango ice cream. It's deliciously creamy too.
This 2-ingredient ice cream is so easy and you will probably already have the ingredients in your pantry.
Cherry and vanilla choc tops are so easy to make ahead for a crowd.
You can make these Ice cream Easter eggs for the cute little bunnies in your life.
This Ice cream sundae is better than a store-bought dessert because you can control the exact amount of toppings that you want.
This recipe was created by Jennifer Cheung for Kidspot, New Zealand's best recipe finder.