Makes 50+
Ingredients
4 egg whites
1/4 tsp salt
1/4 tsp cream of tartar
1 cup (220g) caster sugar
1 cup dark chocolate, melted
3-4 candy canes
Method
Step 1. Preheat oven to 120°C (100°C fan-forced). Beat egg whites until soft peaks form. Mix in salt and cream of tartar. With the mixer running, very slowly add sugar a little at a time to form stiff peaks.
Step 2. Place meringue into a piping bag with a large star nozzle attached. Line two large oven trays with baking paper. Begin by piping a large dot approximately the size of a 20 cent coin. Then pipe a smaller dot on top, and a third smaller one to finish. Continue until you have used all the meringue. Bake for 2 to 2 1/2 hours. Turn the oven off and leave the meringues to cool for at least 2 hours.
Step 3. Dip the cooked meringue trees in the melted chocolate and place on a tray lined with baking paper. Allow chocolate to set.
Step 4. Crush candy canes in a food processor or mortar and pestle to form a fine powder. Sprinkle over meringues.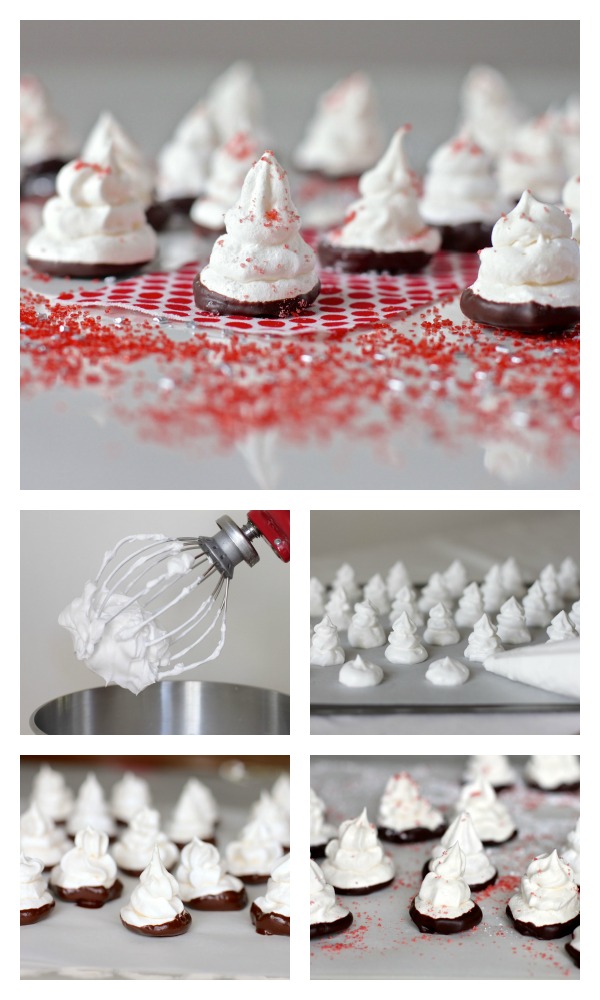 Find related sweet Christmas recipes
Begin this recipe well ahead of time – the meringues cook for a long time at a very low temperature, and they need to be left in the oven to cool.
This recipe makes plenty of little trees, so take your time getting your piping technique right.
Instead of crushed candy canes, you could use some red coloured sugar, found in the baking aisle of most supermarkets. Grind it into a fine powder in a mortar and pestle.
You can make these Christmas ginger joy biscuits and thread them onto string to make an edible decoration.
We covered these little chocolate explosion Truffles in cocoa.
You can make these Snowman doughnut sticks with store-bought doughnuts and they are so much fun.
These Christmas crackles are also a fun cooking activity for kids. You can make them in mini cupcake sizes.
If you like Rocky road then these Christmas rocky road bites are delicious. Just don't forget they contain nuts so you may need to label them.
This Fruit Christmas tree is a healthy alternative to all the indulgence of Christmas. It could be a beautiful, edible centrepiece for your table.
You can make these Christmas chocolate spoons with the kids and enjoy some family time as you decorate them together.
If you like a round shortbread disc then this Christmas shortbread can be cut into "Petticoat tails".
These Orange and cranberry truffles are perfect for the festive season with their zesty orange flavour.
These Christmas pudding pops are a delicious bite and perfect for cocktail parties.
This recipe was created for Kidspot, New Zealand's best recipe finder by Greer Worsley, who blogs at Typically Red.