4
Ingredients
30g butter
2 garlic cloves, crushed
1 medium brown onion, diced
4 rashers middle bacon, diced
1 1/2 cups arborio rice
2 tbsp chicken flavoured stock powder
3 cups (750ml) boiling water
1 small double chicken breast (500g), diced
1 cup (100g) parmesan cheese, grated
parsley (garnish)
Method
Step 1. Gather all ingredients.
Step 2. Set the rice cooker to cook position and place butter, garlic, onion and bacon into the bowl. Fry until the onion is translucent.
Step 3. Add the rice and cook for 2-3 minutes ensuring that the grains are coated in the butter. Add the stock powder, boiling water and chicken. Stir to combine, making sure the cook button is still down.
Step 4. Cook for approximately 15-20 minutes or until the rice is cooked but still has a firm bite. If it is a little dry just add a few tablespoons of water and stir. Stir in parmesan cheese, garnish with parsley and serve.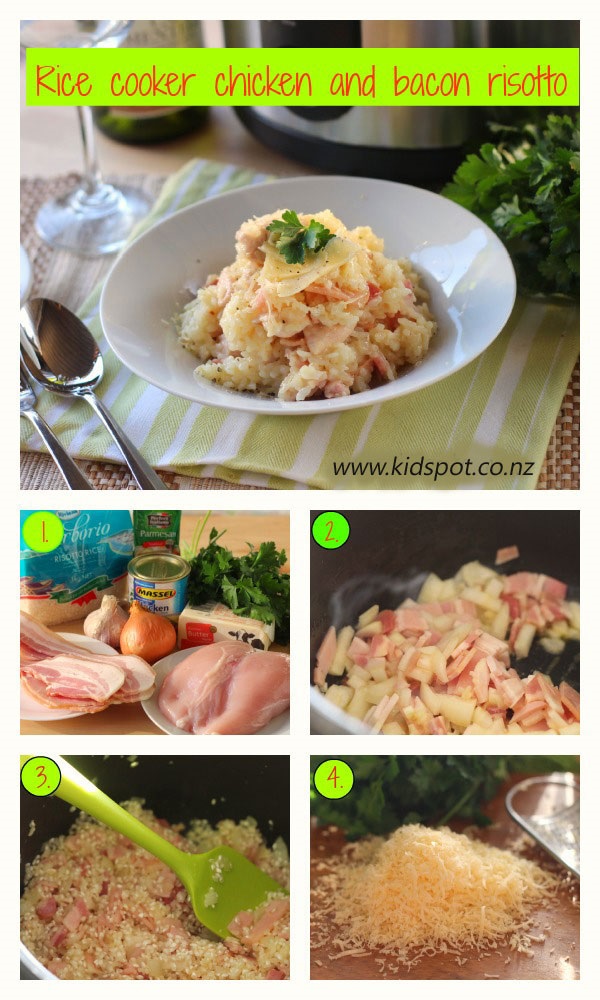 Find related risotto recipes
I used a very basic rice cooker for this recipe and I had to push the button twice to cook to the end.
Risotto should have a nice creamy finish, which is why we add a little water and parmesan at the end.
Whenever you cook chicken with bacon, the bacon keeps the chicken pink in colour, even when it is cooked.
This recipe was created by Jennifer Cheung for Kidspot, New Zealand's best recipe finder.