6
Ingredients
3 packs Polar Bars (4 bars per pack)
600ml thickened cream, whipped until thick
1/2 cup chocolate topping
1/2 cup caramel topping
1/2 cup salted peanuts
1 bag mini Snickers (20 per pack), chopped
Method
Step 1. Remove 9 ice cream sandwiches from the packaging and arrange three in a row on the plate.
Step 2. Spoon and smooth a layer of cream over the ice cream bars.
Step 3. Drizzle caramel topping, then chocolate topping and sprinkle peanuts over the cream.
Step 4. Repeat twice until you have a stack of three layers. Sprinkle chopped Snickers bars on top and freeze until required.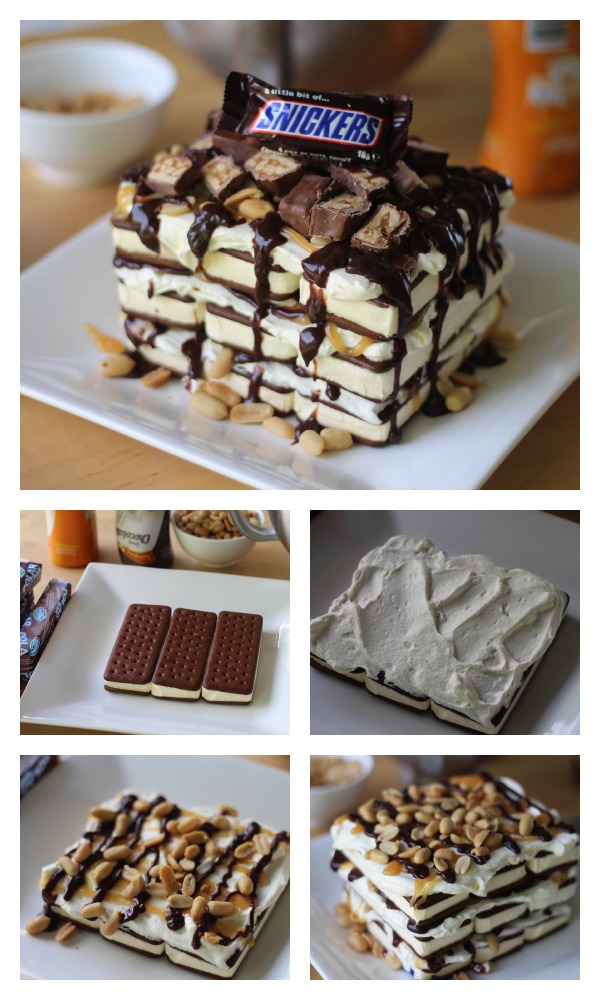 You can eat this as soon as you make it. You don't need to freeze the cream.
You may not need all 20 mini Snickers bars for this cake, use as many as you like.
You can create as many layers as you want or make this cake as large as you need. Just add more ice cream sandwiches.
You can buy Polar Bars from Aldi or substitute any of your favourite store-bought ice cream sandwiches.
This 2 ingredient ice cream is a great frozen treat if you like to make your own ice cream.

If you are in a warm climate then this

Christmas pudding ice cream

is perfect on a hot Christmas day.

This Chocolate ice cream pudding is creamy an cold and ideal on a warm day.
The kids will love making this Ice cream in a can. It's a fun science experiment with a delicious end result.
If you want to make your own ice cream sandwiches then our Ice cream sandwiches recipe is delicious.
If you don't want to go to the fuss of making a whole cake then just try this delicious Ice-cream sundae.
If you want to spread the ice cream with ease then this Popsicle birthday cake is perfect for sharing.
If you prefer the tang of yogurt then you can try this Strawberry frozen yoghurt.
This recipe was created by Jennifer Cheung for Kidspot, New Zealand's best recipe finder.