The Cat From Muzzle traces the true story of a high-country cat's epic, five-week journey home to New Zealand's most remote station.
It's not uncommon to hear stories of the adventures of wandering cats and dogs, we had a family cat who must have certainly lived some kind of double life as she disappeared on a regular basis only to return looking plumper each time. She was clearly loved by two homes, though we played along pretending that we didn't know about her duplicity! The cat From Muzzle is one of those heroic tales but of epic proportions!
Dwayne is a rumble-tumble tabby cat who knows where he belongs — up on the farm at Muzzle Station. So, when he's taken to live far away in the town of Kaikoura by plane, then turns around to head home by foot not long after his paws touched down it could almost seem a little far fetched, even for a cat tale, but true it is, Dwayne who must surely be the Bear Grylls of felines did just that!
The Cat From Muzzle takes us with Dwayne on his adventure shortly after arriving at his new Kaikoura home returning over snowy mountains and across raging rivers, meeting helpful friends, facing oinking danger and overcoming the obstacles of a long journey home to Muzzle Station . What a cat! What determination! Home really is where the heart is.
This heartwarming story by Sally Sutton reads aloud in a rhyming rhythm easy to follow for the little ones with sweet illustrations by Scott Tulloch. The kids with their keen hearts for adventure and brave cats were kept attentive and delighted by The Cat From Muzzle, a true tale of feline audacity and toughness to successfully find a way back to the bosom of home.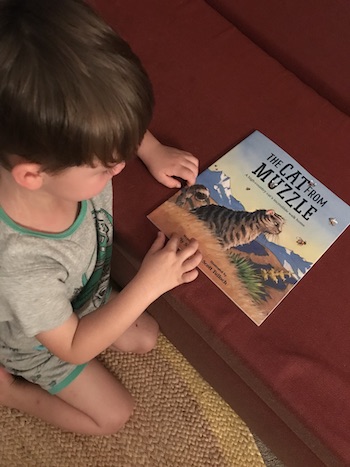 Written by Ronnie Swainston
Online Producer & Experiences Editor Ronnie is mum to two spirited kids who keep her on her toes. With a love for travel, film, tv, photography & (eating) food keeping her wishing for more time, & having a keen curiosity means she'll give almost anything a go making her, and her family, up for the job!
Favourite place to be: On an adventure