Chicken teriyaki meatballs
Serves:
Ingredients
1 kg chicken breast mince
1/3 cup (80ml) milk
1/3 cup Panko breadcrumbs
1/3 cup crushed pineapple, drained
1/3 cup shallots (green onions), very finely chopped
2 tsp minced ginger
1 tbsp crushed garlic (or 6 cloves, crushed)
2 tbsp low-salt soy sauce
1/2 tsp salt
1/2 tsp white pepper
Teriyaki sauce:
1/ cup (125ml) low-salt soy sauce
1/3 cup (80ml) water
1/3 cup (80ml) pineapple juice (drained from crushed pineapple)
1/3 cup (70g) brown sugar
2 tsp minced ginger
1 tbsp crushed garlic (or 6 cloves crushed)
2 tsp cornflour
1/4 cup (60ml) water
shallots, sliced (garnish)
1 tsp sesame seeds (garnish)
Method
Step 1. Preheat oven to 220°C (200°C fan-forced). Place chicken mince in a bowl and make a well in the centre. Add the milk and breadcrumbs to the centre to soak for a few minutes.
Step 2. Place the remaining meatball ingredients into the bowl and combine well using a spoon.
Step 3. Spray 2 x 24 cup mini muffin pans with canola oil and spoon tablespoon-sized balls into the tray. Cook for 15 minutes or until lightly golden and cooked through.
Step 4. To make the sauce; place soy sauce, 1/3 cup water, pineapple juice, brown sugar, ginger and garlic in a small saucepan and cook over a medium heat for 1-2 minutes or until the sugar has dissolved. Mix cornflour into the 1/4 cup of water until you have a slurry and add it to the saucepan, whisking well until you have a thick teriyaki sauce that will coat the back of a spoon. Toss chicken meatballs in sauce and garnish with extra shallots and sesame seeds.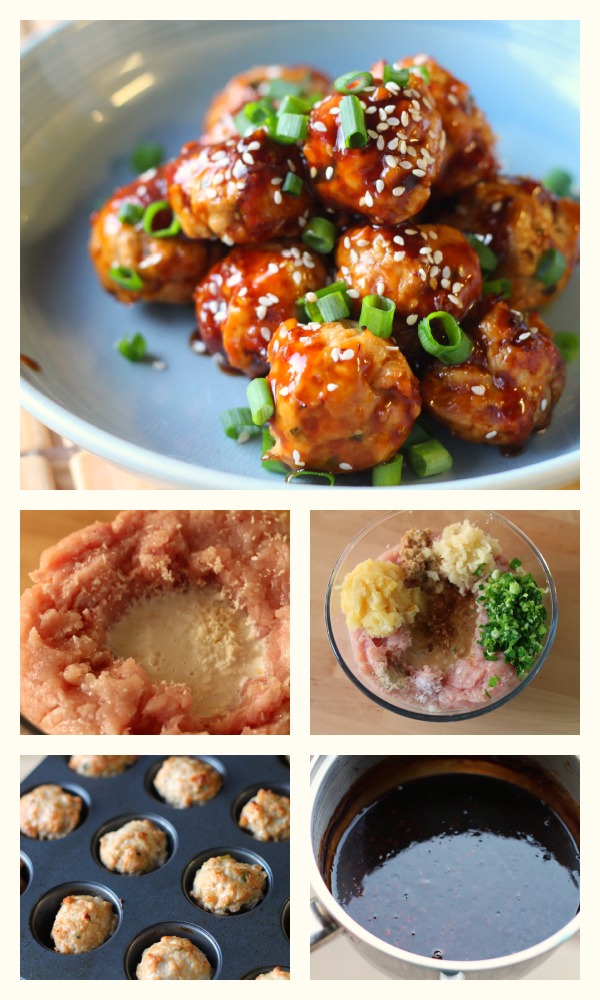 Find related meatball recipes
Serving Suggestions
Note