Serves 6-8
Ingredients
1 1/4 cups crushed ginger biscuits
1/2 cup (115g) caster sugar
1/3 cup condensed milk
1 1/2 tsp vanilla
1 tsp cinnamon
200g white chocolate
3 tbsp red sanding sugar
Method
Step 1. In a food processor combine the crushed ginger biscuits, caster sugar, condensed milk, vanilla and cinnamon. Process until well combined. Then to a bowl; cover with plastic wrap and chill for half an hour to make the dough easier to handle.
Step 2. Shape the dough into small logs then set aside. Melt chocolate over a saucepan of simmering water then dip logs in the chocolate, ensuring they are evenly covered.
Step 3. Set a wire rack over a sheet of baking paper on your work surface and arrange the chocolate-covered logs on this. Sprinkle them with red sanding sugar.
Step 4. Let stand until the chocolate hardens then keep in the fridge until needed.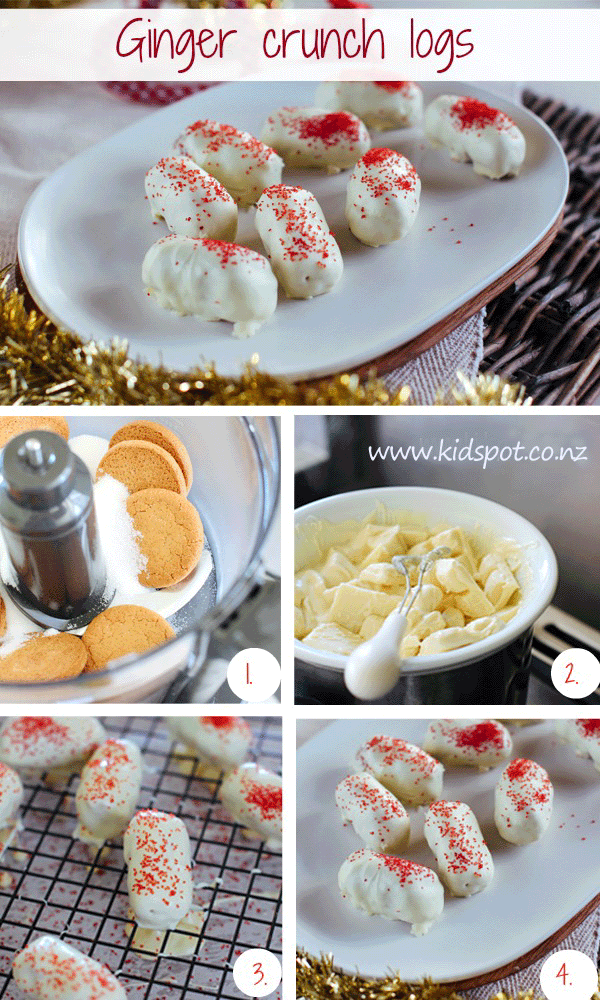 Find more sweet recipes
These are equally as delicious when dipped in milk chocolate or dark chocolate.
You can also swap the ginger biscuits for a milder flavoured crushed biscuit, if you prefer.
This Fruit Christmas tree is a healthy alternative to all the indulgence of Christmas. It could be a beautiful edible centrepiece for your table.
You can make these Christmas chocolate spoons with the kids and enjoy some family time as you decorate them together.
If you like a round shortbread disc then this Christmas shortbread can be cut into "Petticoat tails" (triangles) and wrapped.
You can make these Snowman doughnut sticks with store-bought doughnuts and they are so much fun.
If you like jelly beans then this Jelly bean Easter bark could be shaped into Christmas baubles and given as gifts.
These Tiny Teddy Santa sleigh lollies are a fun cooking activity to make at Christmas with your family.
These cute Reindeer cupcakes use pretzel and Jaffas for Rudolph's nose.
You can make these Christmas ginger joy biscuits and thread them on string to create a Christmas decoration.
You can make these Christmas tree brownies in one giant round and just slice and ice. They are easy and perfect for chocolate lovers.
These Gingerbread families are made with a traditional gingerbread recipe and decorated with Royal icing.
This recipe was created by Sophie Hansen for Kidspot, New Zealand's best recipe finder: You can follow Sophie on Local is Lovely, Facebook, Twitter or Pinterest.