Homemade Big Mac special sauce
Serves:
6
Ingredients
1/2 cup mayonnaise
2 tbsp French dressing
4 tsp sweet mustard pickles (relish)
1 tsp white onion, finely chopped
1 tsp white vinegar
1 tsp caster sugar
1 pinch salt
For the burgers:
6 cheese slices
6 tbsp white onion, diced
iceberg lettuce, shredded
pickle slices for the burger (we used sliced Polskie Orgorskie)
6 buns + 3 additional buns to make the centre slice
Method
Step 1. Place all ingredients for the sauce into a bowl.
Step 2. Whisk until combined.
Step 3. Cover and refrigerate overnight. Stir often during refrigeration to infuse flavours.
Step 4. Prepare burger ingredients and lay onto the bun, spreading the sauce generously on your burger patties.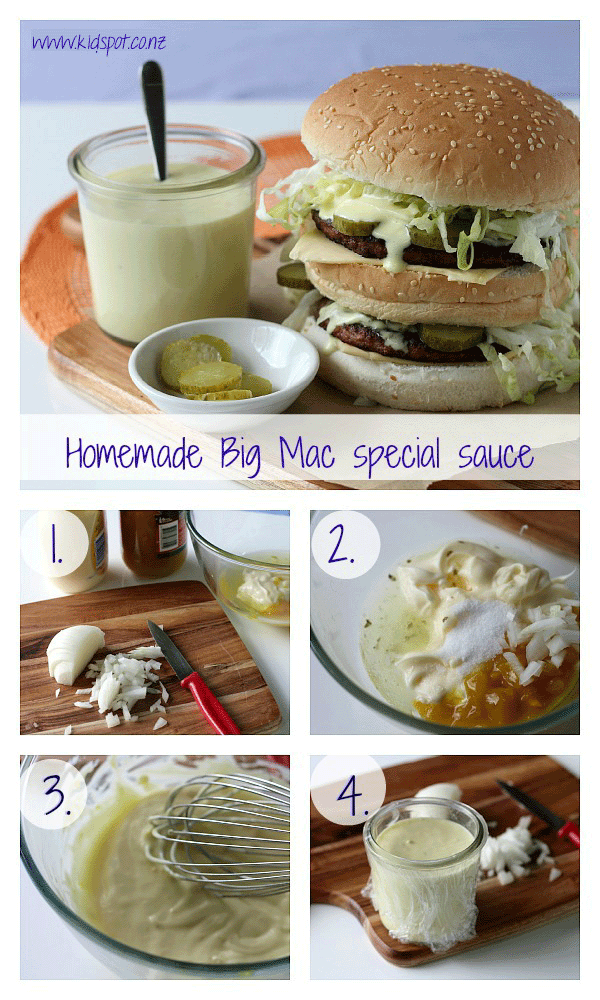 Serving Suggestions
Note
The French dressing needs a good shake before pouring from the bottle so you get an even measure of oil and vinegar mixture.
You can use this sauce straight away but the flavours really develop overnight for the best flavour.
You can also add this sauce to your homemade Cheeseburgers.
These Double burgers are just like a Big Mac in size but with the added salad.
If you want to make a healthier version you can try these Healthy hamburgers.
You can also try one of our other copycat burger recipes, Homemade KFC burgers. They are a delicious alternative to the drive-through.
If you like lamb then these Spring lamb burgers are a great treat for party platters.
These Tex Mex burgers have a Mexican spin on flavour with all the convenience of a burger.
If you love the flavour of peanut Satay then try these Satay chicken burgers. They are perfect in mini form too.
These Portuguese chicken burgers taste just like Oporto burgers and you can control the amount of spice that you like.
Are you looking for a delicious vegetarian alternative to beef burgers? Try these Mushroom pesto burgers.
This recipe was created by Jennifer Cheung for Kidspot, New Zealand's best recipe finder.