Ingredients
1 pkt (470g) vanilla cake mix
3 eggs, lightly beaten
2 cups melted ice cream
Method
Step 1. Grease and flour a round 20cm cake pan and set aside.
Step 2. Place cake mix into a mixing bowl with the eggs and beat slowly, gradually adding the melted ice cream until well combined. Mix on high for 3-4 minutes.
Step 3. Pour mixture into cake tin.
Step 4. Bake for 35-40 minutes or until a skewer pushed into the centre comes out clean.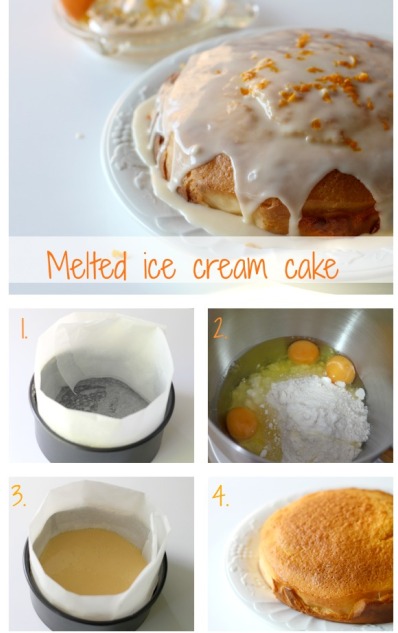 Notes:
The cake part of this recipe has just three ingredients and is so easy to make even the kids can make it.
The cake it makes has a fine crumb and we have drizzled it with a mixture of icing sugar mixture and orange juice.
Be careful with dairy that has been left out of the fridge or freezer for extended periods of time – it can contain harmful bacteria. We recommend if you are melting ice cream specifically for this recipe to do it in the refrigerator.
You can make your favourite flavoured icing but we have opted for a simple drizzle.
If you really love a simple recipe then this 3 ingredient apple Danish has a crisp outer crust and a deliciously fruity inside.
If you prefer a biscuit with crunch then try these 3 ingredient almond biscuits. They are perfect with a cup of tea.
If the kids are due home soon and you don't know what to make as a snack then try these 3 ingredient biscuits for a quick afternoon snack.
If you love chocolate then this 3 ingredient Oreo dessert will be perfect for you. It's not kilojoule free but it is delicious.
You can try these 3 ingredient Nutella croissants. They are all flake-y pastry on the outside with a deliciously warm Nutella filling on the inside.
If tangy is your thing then you can try this 3 ingredient pineapple cake. It is a stir and bake cake that couldn't be easier.
You can make 3 ingredient fruit cake with the fruit juice of your choice and it lasts a long time on the shelf … but will disappear because it is so nice with a cup of tea.
If you don't have time to bake then you can try these 3 ingredient lemon tarts. They are great to take along to a party when you are pushed for time.
This recipe was created by Jennifer Cheung for Kidspot, New Zealand's best recipe finder.