6
Ingredients
2 cups (300g) self-raising flour
2 tbsp white sugar
2 eggs, lightly beaten
1 1/2 cups (375ml) milk
Method
Step 1. Place flour, sugar and eggs into a bowl and whisk together while adding milk at a little at a time until all ingredients are incorporated.
Step 2. Pour cake mixture into the bowl of a rice cooker and set the rice cooker to cook. If you have an automatic rice cooker, you may need to push the button down 2-3 times until your cake is cooked.
Step 3. Cook until a skewer inserted into the cake comes out clean or the cake has a smooth, dry surface. This should take around 20-25 minutes.
Step 4. Slice and serve with berries and ice cream or maple syrup.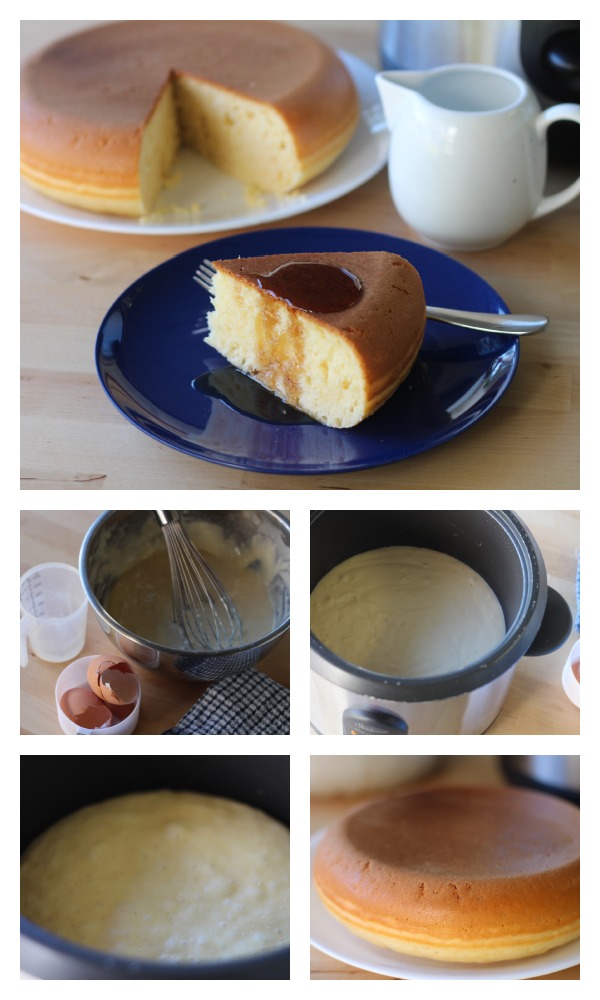 Find related pancake recipes
Don't open the lid of the rice cooker while this is cooking. It is just like opening the oven when you are cooking a cake. It lets all of the heat out.
Most rice cookers have a non-stick coating but if yours does not then you need to give it a spray of cooking oil before you pour in the batter.
I used a very simple rice cooker and had to set it to cook twice, which took about 20-25 minutes.
I've been cooking panckes since I was kneehigh but can I ever remember the right quantities of ingredients? Nope. Which is why I have this Basic pancakes recipe bookmarked so that I end up with pancakes that are light and fluffy.
This rice cooker cake uses a pancake batter but if you want a more traditional pancake then this Lemon and sugar pancake recipe is the way to go. It's my fave as it brings back memories of Pancake Day when I was a kid.
Kids always love food that looks a little bit different whuch is why this Purple pancake recipe is a weekend winner at our place. The addition of pureed blueberries to the batter gives the panckes their hue and a nod to nutrition!
Another healthy-ish twist to panckes is adding mixed berries to this Spotty pancake recipe. Kids love them and they're getting a hit of fruit to boot.
Chocolate and pancakes are a match made in heaven which is why this Choc chip pancke recipe is such a hit. The choc chips melt slightly so they're gooey and oozey and to die for.
If you really want to turn the dial up on the chocolate flavour then you need to go for this Chocolate pancake recipe. Not something I'd go for as a breakfast recipe but as a special dessert with vanilla ice cream and strawberries? Oh yes.
Another dessert-style pancke recipe is this Apple and cinnamon pancake recipe. Special enough to be a dessert and light enough not to have to lie down afterwards. Bring. It. On.
There's always one dodgy banana that comes up bruised and battered from a lunch box. Fortunately there's this 2-ingredient banana pancake recipe that uses it up. Yummo.
If you make pancakes a lot, consider this Bulk pancake mix recipe. Keep it in an airtight container and you're good to go whenever the fancy takes you.
I love a retro dessert and this one has pancakes too. Try this Peaches and custard pancake recipe for a tasty blast from the past.
This recipe was created by Jennifer Cheung for Kidspot, New Zealand's best recipe finder.