Serves 4
Ingredients
1 cup (150g) self-raising flour
1 tsp baking powder
1 egg
1 cup (250ml) milk
30g butter
1 banana
24 choc chips
32 white mini marshmallows
Method
Step 1. In a large bowl, combine flour and baking powder. Add egg and milk and whisk until well combined.
Step 2. Melt butter in a large non-stick frypan over medium heat. Use a spoon to create pancake shapes. You will need one large circle for the body, a smaller circle for the head, two small circles for the feet and two triangles for the ears. Cook for 1-2 minutes until bubbles appear on the surface. Flip and cook for a further 1-2 minutes. Remove to a plate and keep warm.
Step 3. Peel banana and slice into 8 pieces. Top small pancake circles with a slice of banana and three choc chips to create feet.
Step 4. Arrange pancakes on plate. Start with the ears. Top with the head piece, slightly overlapping, then the body piece. Finally, carefully place the decorated feet overlapping the bottom of the body. Arrange mini marshmallows to create the fluffy tail.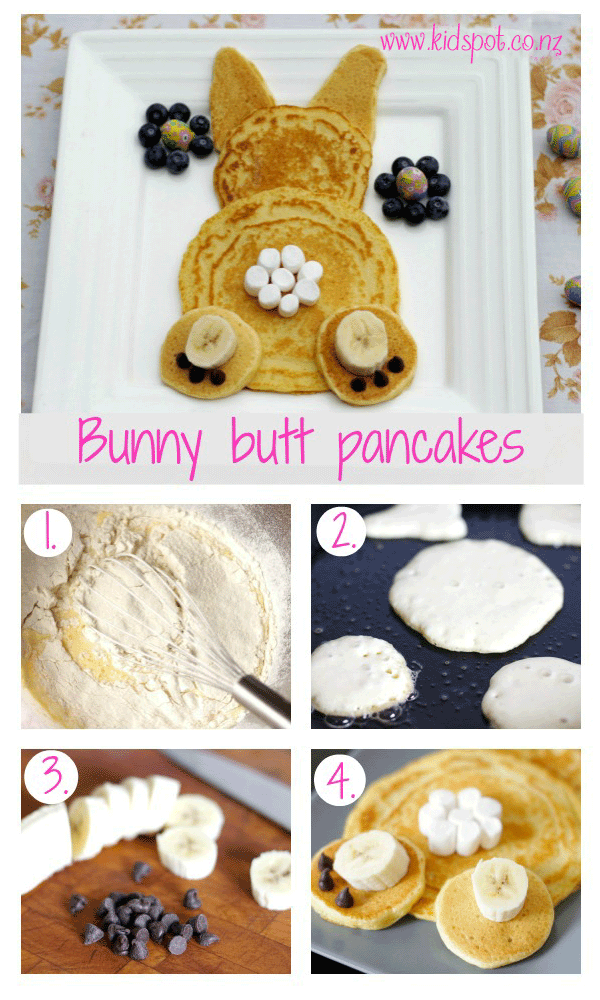 You could use grated apple, ricotta cheese or even a scoop of ice cream for the tail.
This is a simple pancake batter recipe, but feel free to use your favourite recipe instead.
Be sure to serve with lashings of maple syrup!
You will also love this cute Easter bunny breakfast. It is the perfect savoury start to Easter Sunday for your little ones.
On the day you have your Easter egg hunt you could make these cute Bunny butt pancakes. They are just like those bunnies in the garden.
If you love Hot cross buns you will love these Hot cross cookies. They are the perfect compromise and much faster to make than their traditional cousins.
These Coconut cream eggs are perfect for when you need to know exactly what is in your Easter treats. The kids will also love making these with you.
This Cream egg cheesecake is worthy of being the centrepieces for your special Easter dinner. It is easy to make ahead and will please the whole family.
These Carrot topped cupcakes are topped with sweet marzipan but don't be fooled into thinking they are all sweet. The cupcakes under the carrots have a zingy lime flavour.
This recipe was created for Kidspot, New Zealand's best recipe finder by Greer Worsley, who blogs at Typically Red.