6
Ingredients
1 pkt (175g) gummy bear lollies
1 cup (250ml) lemonade
Method
Step 1. Divide your gummy bears up so you have one of each colour x 6.
Step 2. Pour the lemonade into a jug.
Step 3. Place the gummy bears into the ice block molds. Pour over lemonade to the top.
Step 4. Freeze overnight.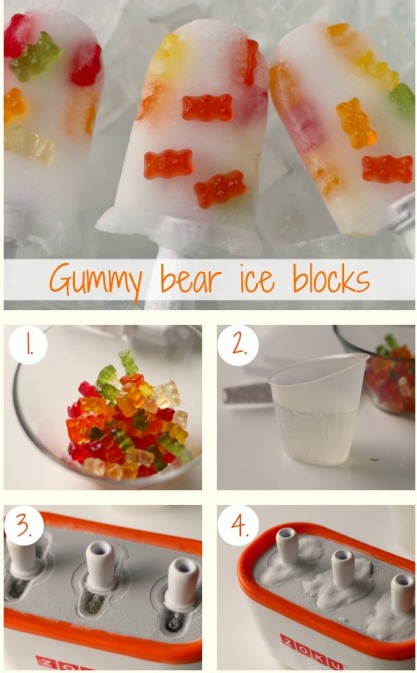 You can use any sweet drink that you like. I have used orange juice and also pink lemonade in this recipe.
I used a Zoku pop maker because I was pressed for time. They make an ice block in 7-9 minutes but you will have exactly the same results from pop molds you have in your pantry.
If you are serving icey treats to toddlers then these No-drip ice blocks are made with jelly so give the little ones time to eat them.
You can grab some delicious in season mangoes or even tinned mango to make these Creamy mango iceblocks . They are smooth and chock full of sweet fruit puree.
If cream and sugar are off the menu and you are looking for a frozen treat that is healthy for the kids then these Yoghurt ice blocks are a healthier choice. Just make sure you check the sugar content of the yoghurt too.
If you are a lover of that hazelnut spread then these Nutella popsicles can be made in 5 minutes and ready to freeze. You will have a chocolatey treat better than any bought ice cream and even better, it will be made by you.
These Watermelon ice blocks have a delicious mint and lemon base. They are sweet and fresh.
Tropical fruit popsicles are a sweet treat that has hints of passionfruit and pineapple. They are a great treat to keep in the freezer for warm days.
These Creamy orange popsicles are simple and satisfying for the whole family. They use orange juice concentrate for really juicy flavour.
This recipe was created by Jennifer Cheung for Kidspot, New Zealand's best recipe finder.