Popcorn Chicken Wraps
Serves:
Makes 4 Wraps
Ingredients
2 chicken breasts, chopped into 2cm chunks
flour
1 egg, lightly whisked
1 cup panko crumbs, in a shallow dish with
2 teaspoons taco seasoning
4 TipTop Supersoft or Oatilicious wraps
large handful of shredded lettuce
1/2 avocado, sliced into strips
2 tablespoons mayonnaise
Method
Dust the chicken pieces with flour and then dip into the egg and then roll in the combined panko crumbs and taco seasoning.
Heat a film of oil in a frying pan over a moderate heat and cook the chicken until golden and crunchy and cooked through.  Drain on paper towels.
Spread each wrap with mayonnaise.
Arrange lettuce, chicken and avocado close to one edge of each wrap.  Fold in the ends and wrap tightly.
Cut in half to serve.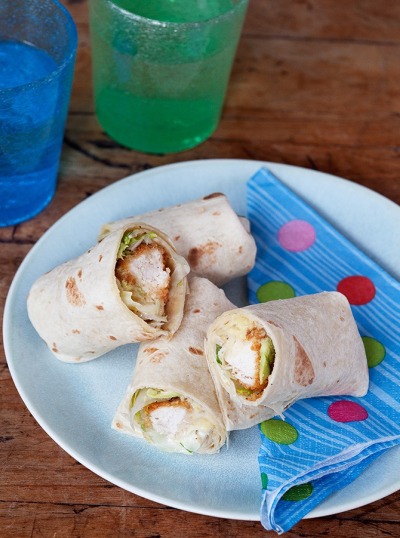 Find more Tip Top Wrap recipe ideas:
Serving Suggestions
Note