Teddies on the beach dessert cups
Serves:
Ingredients
12 Arnott's Milk Coffee biscuits (any plain biscuits will do)
6 Yogo dessert cups or similar (any flavour)
2 Sour Straps, rainbow flavoured
6 x Jaffas
6 x 5 Flavours Lifesavers
6 x Tiny Teddy biscuits, honey flavoured
6 paper parasols
Method
Step 1. Gather all ingredients together.
Step 2. Place Milk Coffee biscuits in a resealable bag and crush with a rolling pin until they resemble fine crumbs.
Step 3. Sprinkle the crumbs over the surface of each dessert cup.
Step 4. Cut the Sour Straps to resemble beach towels and place on the crumbs. Lay one Tiny Teddy on each "beach towel".
Step 5. Add one Jaffa and one Lifesaver to each cup.
Step 6. Open parasols and place one in each cup.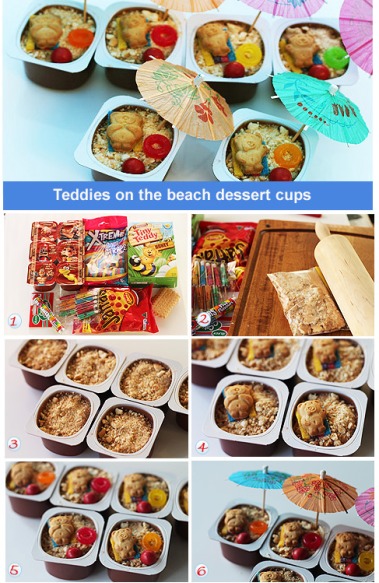 Notes:
If you can't get Sour Straps for this recipe, you can use Fruit Roll-Ups as a substitute.
You can purchase the parasols at the supermarket; look in the party section.
This recipe was created by Jennifer Cheung for Kidspot, New Zealand's best recipe finder.
Find related Tiny Teddy recipes
Serving Suggestions
Note