Can you feel that? It's the soft whisper of the sun on your skin, beckoning you outside at every opportunity. And there is no better way to spend time outside than picnicking.
Everybody knows that eating outdoors makes food taste better – even picnic-at-the-beach sandy food. Keep a bag ready-packed with picnic supplies so you can decide to head out at a moment's notice. You'll be making Saturday lunch at your kitchen counter and catch a glimpse out the window of blue skies and green grass and you'll think, 'I'm going to lay a rug out in the backyard for an impromptu picnic today.' Or maybe it will be Thursday morning and you'll decide you'd love to catch up with a friend for lunch. "Meet me at top of the bush track and I'll bring a backpack with lunch," you'll say.
More good ways to picnic
Any day is a good day for a picnic.
Dinner picnics are fun as the days get longer.
Afternoon tea picnics are a great stopover on the walk home from school.
Backyard picnics are a joy at any meal, especially breakfast.
Beach picnics with extended family are a great way for everyone to catch up.
A secluded night picnic is superb for bringing back the romance.
Travelling picnics make sense when you're on the road somewhere.
Making food portable
You can take any meal at all on a picnic, provided you can package it well – all the usual food hygiene rules apply, so be vigilant. A drive to a picnic spot and a quick unpack on a picnic bench is a very different scenario from a long walk through the bush to perch on a log by the side of a river. Some suggestions for packing right include:
Ensure dishes are leak-proof by putting the food into the base of the container, wrapping the base entirely in cling film and then putting the lid on top.
A couple of rubber bands wrapped tight around the container will give added protection.
Save takeaway containers to reuse as picnic containers – they tend to hold up well to all kinds of food.
Use screw-top jars wherever you can – the original leak-proof packaging.
Keep food cold in an esky or insulated bag with a couple of icepacks.
Keep food hot in a large thermos or an insulated bag – make sure you serve hot food quickly after transporting it. You can also put a casserole dish into a box after wrapping it in a beach towel. Newspaper also makes good insulation.
Cutlery holder
You can make cute cutlery holders to take along with you. There's a free printable and step-by-step tutorial by Kim at Today's Creative Blog. Put foods on sticks whenever you can – fruit salad on a stick, olives and feta on a stick, antipasto on a stick. Food transports better when it's separated.
Don't forget to pack …
Sun protection – lotion and some kind of shade cover for your picnic blanket
Icepacks to keep drinks cool
Small cutting board and sharp knife (wrap in tea towel to keep it safe or pop a cork on the end)
Bottle opener
Napkins
Cups, plates and cutlery
Rubbish bag
Paper towels
Baby wipes for clean up
Picnic blanket
Lovely picnic food that transports well
Pack light or pack lots, it's entirely up to you. Try some of these delicious recipes for portable picnic meals and snacks.
Premixed drinks
Taking premixed drinks in jars to your picnic is genius – whether you pack cordial or cocktails. Any old jar would do, you should be able to find them in speciality shops (and even your local $2 shop, if you're lucky). Favourite cocktails to mix include Christmas punch, traditional lemonade or try raspberry crush.
Revive favourites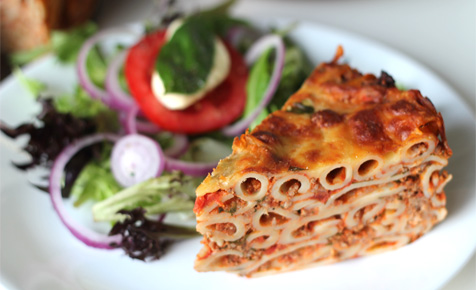 With a little ingenuity you can make your favourite recipe completely portable. Serving spaghetti bolognaise at a picnic is fiddly, but serving a Spaghetti bolognaise pie is genius! Think of ways you can serve up family favourites in new and exciting ways.
Dippy things
Cutting up fruit for yoghurt dips or vegetables for savoury dips is an easy way to picnic. You can try our sweet cheesecake dip with fruit, or some homemade Hummus or Babaganoush?
Cobb it together
This Picnic cobb loaf is everything picnic food should be – portable, colourful, healthy and delicious. All the ingredients ooze together nicely, flooding the cobb with flavour. You can pack just about anything inside a cobb loaf and use it as the container to transport your food. Dips go very well inside – try Basil pesto or Avocado sweet chilli dip. Simply hollow out some of the bread, spoon in your dip, put the lid back on and secure with rubber bands. When you arrive at your picnic, use the lid as your bread to dip into the dip. Delish!
Basic tarts
The fun-loving girls at A Beautiful Mess love entertaining and picnics feature high on their summer fun list. This Sweet peaches and cream tart is deliciously simple and a worthy dessert for a picnic. You can add toppings to puff pastry to make all kinds of tarts that are easy to serve at a picnic.
Pies and parcels
These Chicken, leek and pumpkin parcels are the go-anywhere picnic star. Put them in a basket, wrap them in a tea towel and transport them to wherever you want to be. You can make sweet or savoury parcels or pies for picnics – knife and fork optional!
Share some sushi
Everyone loves sushi and the great thing is that sushi loves picnics. Make some fun sushi balls or pack your favourite tuna, salmon or cucumber mini rolls.
Cupcake mad
Is a picnic a picnic if you don't pack cupcakes? My kids would say it's not! For a super-simple cupcake recipe you can whip up in moments, try this.
Loaf around
Loaves are easy to take wherever you go – just pop them whole into a container along with a knife for serving at the picnic. This recipe for a Blueberry and muesli loaf would make a a lovely breakfast picnic staple. You could also pack a Carrot and walnut loaf, Sultana loaf or Zucchini loaf.
Get a little fruity
Fruit is self-contained, portable and fuss free, so throw a few apples and oranges into your picnic basket. Other ideas for packing some fruit for your picnic are Fruit skewers and Fruit muffins.
Make a salad
This Zucchini, millet and mint salad is by the gorgeous Emma at My Darling Lemon Thyme. Head over there for the healthiest, yummiest picnic salads you can imagine.
Break some bread
You can never go wrong with bread. Whether you're making sandwiches or dipping chunks into dippy things, a lovely fresh loaf of bread is a must at any picnic. You don't need a breadmaker to make this slow cooker bread, and don't forget the sweet breads. Trust me, you'll be carting a fragrant just-baked loaf to a picnic spot real soon:
Drum it up
Bake a load of chicken drumsticks for a budget-friendly, easy-to-eat picnic option. Try Honey soy drumsticks or Sticky honey.
Keep it cheesy
A Beautiful Mess created this divine cheese platter and it's easy to put one together yourself. A cheese platter with added fruits, chutneys and condiments makes the perfect appetiser at a picnic – everyone can dig in to their heart's content.
Roll with it
We've come a long way since the only roll on offer involved a sausage and bread. Make these simple sausage rolls for your next picnic outing, or try some Sweet chilli rollsor veggie Pumpkin, spinach and feta rolls.
Individual portions
Take things along already made in individual portions – they'll already be self-contained in their own transportation unit. You can go simple with Chocolate puddings or Baked eggs, Chicken lasagnes or Meatloaves.
Long bread rolls
This recipe for Lemongrass and chicken rolls is a good reminder that the simplest food is often the best for a picnic. Make a huge French baguette with your favourite topping and cut into individual serves on the day. That way everyone gets the amount they would like. Of course, you can't go past a big load of sandwiches either. Find lots of idea for sandwich toppings here.
Galette goodies
A galette is like an open pie, making an all-in-one dish that is easy to eat without cutlery or fuss. This Breakfast galette by Peggy at Cake Crumbs and Beach Sand would make the perfect fare for a breakfast picnic … or any time of day, really.
Pizzas to share
Pack a few pizzas with different toppings to cut and serve to your group. Such an easy idea for feeding lots of people. You can find some good ideas in Kidspot Kitchen, but you can add any topping you fancy.
Stick 'em up
You can put fruit on sticks, meatballs on sticks, cheese on a stick … we've got 6 of our favourites here, but you can pretty much put a stick in anything soft.
It's a wrap
Little pastry-wrapped bites make breezy picnic fare. These Herby filo triangles are a good place to start. You can also try things like: