Ingredients
1 pkt chocolate cake mix
1 can (375ml) Coke
Method
Step 1. Preheat oven to 180°C (160°C fan-forced). Lay out 12 patty pans on a baking tray.
Step 2. Gather your ingredients
Step 3. In a bowl, using a mixer combine the cake mix with the Coke. Beat for 1 minute.
Step 4. Fill patty pans to 3/4 full and bake for 26 minutes or until a skewer placed into the centre comes out clean.
Remove to cool.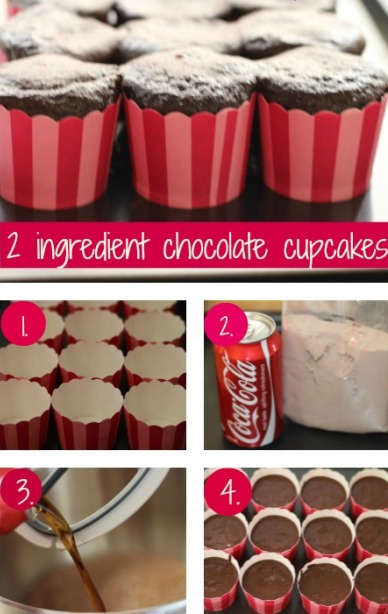 Find related 2 ingredient recipes
I didn't use any gradual mixing method here. I just grabbed the Coke and poured it over the cake mix and mixed it for a minute.
It would be much better if you did not have your patty pans close together on the tray like I did. It made it a lot harder for the heat to penetrate into the centre.
This recipe was created by Jennifer Cheung for Kidspot, New Zealand's best recipe finder.