Fruity Pizzas
Serves:
24
Ingredients
Pikelets:
1 cup (150g) self-raising flour
1/4 cup (60g) caster sugar
1/4 tsp bicarbonate soda
1 egg, lightly beaten
3/4 cup (180ml) milk
1 tsp white vinegar
15g butter, melted
extra butter for frying the pikelets
For the topping:
1 tub (250g) spreadable cream cheese
2 tbsp orange juice
zest of one orange
1/2 cup (80g) icing sugar
1 banana, sliced
2 kiwifruit, peeled and sliced
1 punnet strawberries
1 punnet blueberries
Method
Step 1. To make the pikelet batter; in a bowl, mix the flour, sugar and bicarbonate together. Add the egg, milk and vinegar, mixing well and then beat in the butter until you have a smooth batter.
Step 2. Heat frying pan on medium heat and brush with melted butter. Add tablespoons of batter and cook until golden, flip and cook the other side. Set aside on a plate.
Step 3. Place cream cheese, orange juice, zest and icing sugar in a bowl and whisk until smooth and well combined.
Step 4. Spread cream cheese on top of pikelets and top with fresh fruit.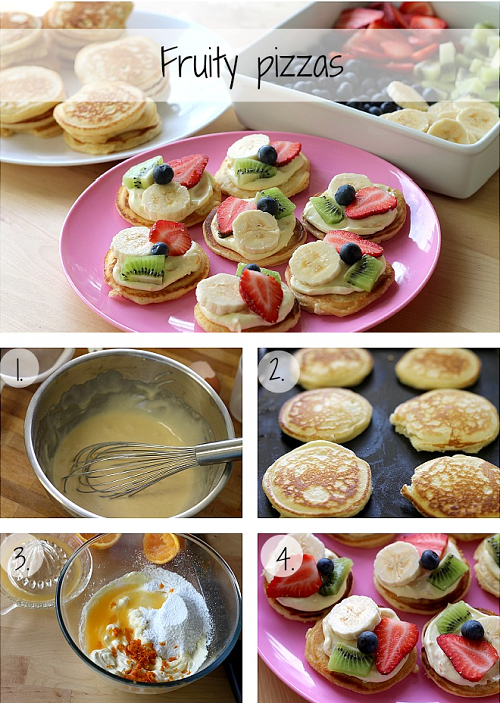 Find related fruit recipes
Serving Suggestions
Note
You can warm the cream cheese in the microwave for 20 seconds to make it easier to whip.
Make sure your frypan is at a gentle, consistent heat; otherwise your pikelets will burn.
This 2 ingredient cheesecake dip with fruit has a similar flavour to our fruity pizzas but without the pikelets.

If you are looking for a fast dessert then you can't go past these 

Fast fruit tarts

.

This Easy Pavlova is a bought pavlova topped with cream and fresh fruit.
If it is all about the fruit for you then you must make this Fresh fruit cake.
These Caramelised fruit kebabs are a sweet take on fruity freshness too.
This recipe was created by Jennifer Cheung for Kidspot, New Zealand's best recipe finder.