Sandwich kebabs
Serves:
Makes 6
Ingredients
4 slices bread
1 tbsp (20g) butter
2 slices leg ham
2 slices cheese
6 baby cornichons
6 grape tomatoes
You will also need:
Method
Step 1. Prepare sandwiches by buttering bread and filling with ham and cheese.
Step 2. Remove crusts. Cut each sandwich into squares.
Step 3. Thread mini sandwich squares onto skewers.
Step 4. Top with a cornichon and tomato.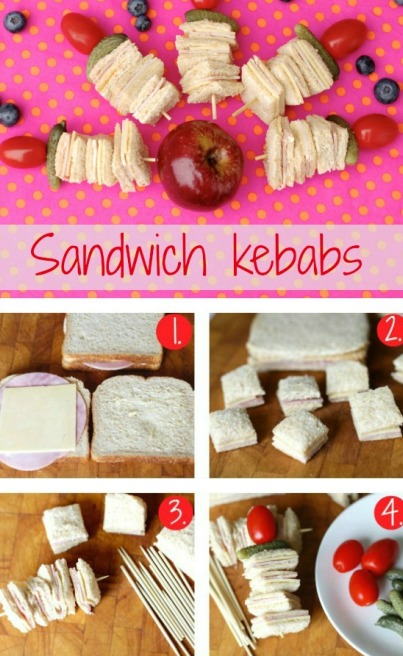 Notes
Make sandwiches with whatever your child's preferred filling is.
Instead of cornichons, try a cube of raw carrot, cucumber or even a strawberry.
There is more fruit with these Chicken and grape party sandwiches.
I do love a good picnic with some delicious Chicken sandwiches.
This Club sandwich makes me think of hotels and room service which is why I like to recreate it at home.
You can make a boy's heart desire using this Lego sandwich recipe.
Delight your little ones with their favourite animals using this Sleepy koala sandwich recipe.
This recipe was created for Kidspot, New Zealand's best recipe finder by Greer Worsley, who blogs at Typically Red.
Serving Suggestions
Note