Smoothies are breakfast in a cup and perfect if you are time poor and in need of a quick meal. Making up bags ready with your ingredients will help you grab, blend and go in the morning.
Ingredients
3 cups low-fat Greek yoghurt
3 bananas
6 tbsp linseed meal
3 cups fruit of your choice
6 resealable bag
To make up smoothies
1 cup ( 250mls) milk per pack
Method
Step 1. Freeze Greek yogurt into cubes and place a few in the bags.
Step 2. Add half a banana.
Step 3. One tablespoon of linseed meal (flaxseed).
Step 4. Add some more fresh or frozen fruit of your choice like strawberries, raspberries or blueberries.
Step 5. Close up the bags and freeze until required.
Step 6. To make up smoothies, add 1 cup or 250mls of milk and blend and serve.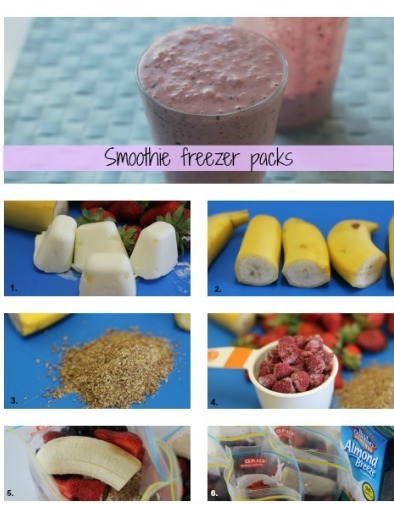 Notes:
This recipe is just a guide to make up the bags. There are so many ingredients you could choose to add to your smoothie. Change up the fruit, add some protein powder, try some different seeds like Chia seeds or add some honey.
There is also a whole range of milks that you can use in a smoothie now. Try low-fat soy, almond or skim milk to keep healthy.
Green vegetables such as spinach are a perfect addition to a smoothie but these are not freezeable. Just grab a handful and throw the leaves in when you are blending.
This recipe was created by Jennifer Cheung for Kidspot, New Zealand's best recipe finder.
Find more breakfast recipes
Serving Suggestions
Note