No bake Nutella cheesecake
Serves:
Ingredients
1 pkt (250g) nice biscuits
1/3 cup (80g) unsalted butter, softened
3/4 cup toasted hazelnuts
1 small jar (400g) Nutella
500g cream cheese
1/2 cup (80g) icing sugar, sifted
Method
Step 1. Line a 23cm round springform pan with baking paper and set aside.
Step 2. In a food processor place the biscuits and pulse a few times to make a rough crumb. Add into the bowl the butter, 1/3 cup of the toasted hazelnuts and 1 tbsp of Nutella. Process until well combined.
Step 3. Press crumb evenly onto the pan and flatten using the base of a glass. Chill while making the topping.
Step 4. Using a mixer, beat the softened cream cheese with the remaining Nutella and icing sugar until well combined. Pour over chilled base and smooth top. Sprinkle remaining toasted hazelnuts over the top and chill for 3-4 hours. Serve straight from the fridge.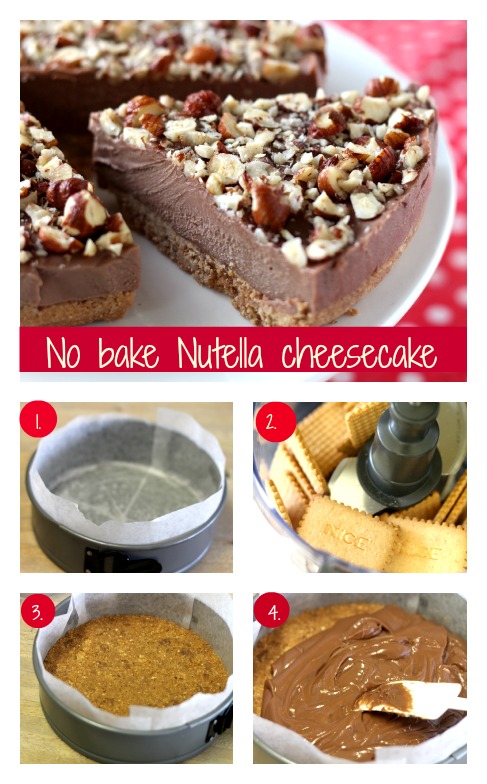 Find related Nutella recipes
Serving Suggestions
Note
This recipe has no added gelatine and that is why it is best served straight from the fridge.
You can freeze this cheesecake and take it out 10 minutes before you need to serve.
You need to take care when serving this at gatherings to label that it contains nuts. It could easily be mistaken for chocolate cheesecake.
If you are taking cream cheese directly from the fridge to use you can pop it into the microwave (unwrapped) for 20 seconds to soften.
This recipe was created by Jennifer Cheung for Kidspot, New Zealand's best recipe finder.